Sally B takes to the screen in "Bomber Crew"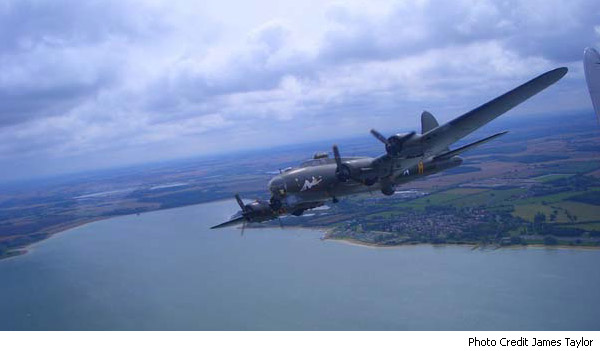 December 2004
By Jarrod Cotter
The first episode of "Bomber Crew" filmed at Duxford was shown on Monday 29th November 2004 at 9pm on Channel 4, followed by a further three episodes at the same time on the following three Mondays.
The series focuses on bomber crews of World War II, and features our own Sally B. Viewers follow the experiences of five young "aircrew" as they progress through a selection procedure. All five had grandfathers who served with Bomber Command during World War Two, and the idea was to put them through some elements of the training regime that wartime airmen would have undertaken. The five candidates were Luke Alkemade, Tim Chambers, Tanya Marriott, John Nolan and James Smith. Three were battling it out for the pilot's role, while the other two were vying for the gunner and wireless operator positions.
Preparation work was spread over several months for Operator Elly Sallingboe and her B-17 Preservation team. Four exemptions were needed from the Civil Aviation Authority, one of which was to allow the trainees to fly the "Fort" from the right-hand seat. Permission was also required to fit cameras to the aircraft, and to drop "bombs"! Filming even made it necessary to re-manufacture the bomb release mechanism, which again needed CAA approval. On the final "bombing sortie" flour bombs were dropped onto a mock village located within an Army range.
Numerous cameras were fitted inside and outside Sally B to film the proceedings and the locations of these were changed around to include inside the cockpit, outside of the rear and waist gunners' positions and underneath the forward fuselage so that the landing gear could be filmed as it retracted after take-off.
Several days' worth of filming at Duxford resulted in six hours of flying time for the B-17, which are being incorporated into the "reality" section of the series. The final sortie was flown on 14th August. As with Spitfire Ace, the bomber-themed series also included interviews with veterans.
Intro: B-17 Training Captain Andrew Dixon, Chief Engineer Peter Brown and Trainee John Nolan relate their experiences and challenges in the making of Bomber Crew. Taken from Sally B News Issue 42 November 2004.
"Bomber Crew" - The Pilot's View
By Andrew Dixon
"Right what I want to see on this shoot is" Oh no we are filming again. All the memories of the frustrations, aggravation, and general "fun" we have had on previous "epics" come to mind. But maybe this one will be different – in fact it is. Sally B and the team: Operator Elly Sallingboe, Chief Engineer Peter Brown, Ground Crew Steve Carter, Pilot Jim Jewell and I are at Duxford for an RDF Media series called "Bomber Crew" for Channel 4. Not a full-sized epic like "Memphis Belle" but a carry on from the series "Spitfire Ace" shown in January 2004.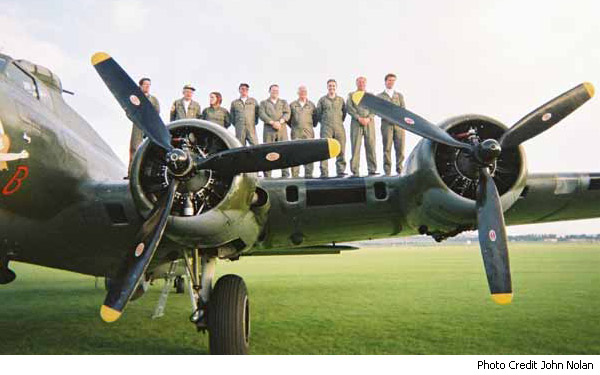 Five hopefuls have been chosen to be put through the same training, or as near as we can make it, as a World War II crew would have experienced. We have two gunners plus three potential pilots who, through a selection process on the T-6 Harvard, Beech 18 and B-17, will be assigned as Pilot, Navigator and Bomb Aimer for our final simulated bombing mission. Throughout the process our "victims" are to be kept in the dark as much as possible about what is coming next. So it is no surprise to see a collection of surprised faces when we meet with them and their mentor for the series, well-known air show pilot and commentator Brendan O'Brien. None of them had known, until a few minutes previously, that they were to fly in a real bomber - let alone Sally B, or that some of them were actually going to have the chance to fly the aircraft themselves, something that previously no-one apart from the normal crew had been allowed to do, and our thanks must go to various people at the CAA who made this possible.
The object of day one flying is to familiarise them with the aircraft. So after an extensive safety brief from Peter and myself, we carry out two flights in the local area around Duxford just to give them an idea of what B-17 flying is all about and also to allow the film crew to view their reactions. For us it is a few days off while the crew go through various "pleasant" exercises and the pilots among them sample the joys of the T-6 and Beech 18 with our friends at Aircraft Restoration Company led by John Romain. By the time we come back into the equation we now have two pilots and a bombardier who has already been practising for his moment of glory by lobbing flour sacks from the Beech 18.
Who will win through to the final prize?
Our second flying day with the crew and the first of two flights today and tomorrow will allow the remaining two pilots actually to flex their muscles and fly a WWII bomber. This is a very interesting exercise as the two candidates have very different flying experience and aviation backgrounds. As in the 1940s, we are also looking for a Captain not just a pilot because the winner will have to take command of the crew on the final mission, as equally difficult a task as flying the aircraft. Who will win through to the final prize - the airline pilot or the light aircraft flyer? For take off and initial climb Jim occupies his normal place in the right hand seat but once we are established in the cruise he hops out and the fun begins. Neither of these guys has ever flown an aircraft of this vintage with manual controls and handling characteristics that are so different from a modern machine. This is also the first aircraft they have handled that requires definite use of rudder in all stages of flight, so for the first few minutes we slide around the sky while they try to become accustomed to the skills that Sally B requires of them. The rest of the crew, both flight and film, are not idle whilst this battle of wills takes place with gunners and bomb aimers becoming familiar with their positions. Meeting the training and filming requirements of the film unit becomes somewhat of a logistical juggling act. We can only carry three people from the cast and crew at any one time as this, along with the three of us, brings us to our permit limit of six persons on board.
During our second pilot training flight on day three, we also carry out some air-to-air filming with the Beech 18 so we have both interior and exterior shots of our crew in action. In fairness to our trainees, I take control for this phase of the flight as close formation in a B-17 after less than an hour at the controls would push them a little too far. Flight three is over and now, in consultation with John Romain, we decide who is to be the pilot next day for the mission and who will become the navigator. This is a difficult decision as both candidates have done really well in difficult circumstances. However, both John and I agree that one of the two had shown greater empathy towards more elderly aircraft throughout the whole exercise and an ability to make the team work together and therefore he is our winner. One of the first things he has to do is bring our "newly appointed" navigator back into the fold as he is naturally somewhat disappointed at not having won through; however this is soon achieved and the crew head off to plan for tomorrow's mission.
A total of twelve "bombs" to drop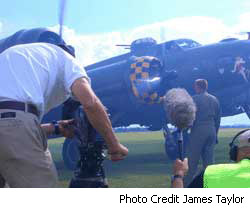 Final day, two flights to our target, a village on an Army range to the north east of Duxford. We have a total of twelve "bombs" to drop - just six per flight. These are hung from Sally B's bomb bay by an ingenious system of hooks etc designed by Peter Brown and Steve Carter, and can be released individually or as a salvo as required by our bombardier. We head off with our pilot following instructions from our navigator as we route round various areas they had been briefed to avoid by Brendan. As we approach the target we make contact with Brendan who is on the ground close to the target to observe the results of our bombing. The first run, dropping two bombs, is beyond the aiming point. Next time round we correct - but too much, and the bombs fall short. Third time lucky - no just past this time. We return to Duxford to re-arm and for our bomb aimer to reconsider his technique.
Flight two, six bombs to go, it has been decided to drop individually this time to give us double the chances of a hit; let's hope it works. On this flight, we have left the navigator behind and have our gunners with us in case of trouble. We are also joined by Lee Proudfoot in the T-6 for some air-to-air shots of our bombing. We reach the range and to begin with it's the same frustration as in the morning, long, short, slightly left, a little right, you can see how difficult this was during World War II. We are at only 500 feet and not being shot at; once again one's admiration for all the crews during the war rises to a higher level.
Final run and at last a hit - talk about cutting it fine! Anyway, back to Duxford for the final wrap up. Everyone is really happy with the way the whole thing has gone, especially our winning pilot who now finds he is off to Canada for the final part of the series - a "hands-on" flight in the Canadian Warplane Heritage Lancaster. I try to work out how to break his legs and go instead but no such luck! And so comes to an end Sally B's contribution to "Bomber Crew".
"Bomber Crew" – The Engineer's View
By Peter Brown
After several meetings at Duxford with Elly and the producers of RDF Media, we were all set to make a start on getting Sally B ready for her star role in the TV series "Bomber Crew". The film company wanted to fit cameras on the aircraft both externally and internally in order to capture all angles on film. We also needed a device in the aircraft to enable the dropping of flour bombs on a dedicated target at the Stanford Military Range near Thetford, Norfolk.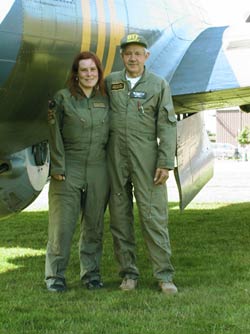 All the requirements were possible, but not without problems, as you cannot just drop things from an aircraft without permission from the Civil Aviation Authority and the same goes when it comes to fitting equipment. The paperwork and permissions must first be in place. Elly always deals with the flying side of this and I, with the help of Cliff Bishop, dealt with the engineering side. First we had to know where we were to mount the cameras and then, if it was possible, to fit them on the aircraft. I had to talk to the local CAA office at Stansted and make an application for a minor modification and of course pay the fee! Cliff and I then carried out a survey of the aircraft and decided on the best way to fit the mounts and the flour bomb dropping mechanism. Cliff then did the drawing which was sent to the CAA.
The next move was to start fitting the equipment and invite the CAA to Duxford to inspect the work. After two visits they were happy and it was all systems go. With regards to the bomb release system, after much searching I decided to use a glider release and had it mounted onto a structure in the bomb bay. Now, with all the hard work done and clearance from the CAA we were ready to start filming. The flying side of the filming of "Bomber Crew" was the most enjoyable and we had good weather throughout. All film crew and cast were given a full safety briefing, first by Elly and Andrew and then by me. This is not unlike the briefing you receive when flying with an airline, but of course this is a World War Two bomber! The positions of the emergency exits and how to use them in any given situation are pointed out. The location of safety equipment such as fire extinguishers, first aid kit and fire axe, plus how to carry out all emergency duties should the situation arise, are explained in detail. In the unlikely event of an emergency, the cast and film crew may be called upon to assist the flight engineer to perform certain emergency tasks, such as the landing gear malfunctioning when we have to revert to lowering the landing gear by hand. This emergency brief is normal company procedure for all crew flying in Sally B. So, with the aircraft ready to fly and the people checked out as far as the safety brief was concerned, we were ready to go.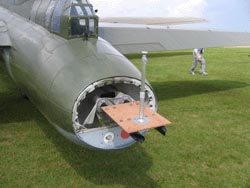 During filming Sally B performed in every way that we have come to expect and all went well.

I'd like to tell you this little story which involved one of the trainees, Tanya Marriott. Her grandfather was a tail gunner in Bomber Command during World War II. We were talking one night at the pub in Duxford village when my RAF service came up in conversation. I said I was in Kenya during the Mau Mau emergency on 214 FMS Squadron, and Tanya said "I think my grandfather was there at the same time". So that night she phoned home, which is in New Zealand, to get the information from her late grandfather's flying log. Yes, he was in the same Squadron at the same time and I was the engine fitter on his aircraft. "Small world."
"Bomber Crew" - The Trainee's view
By John Nolan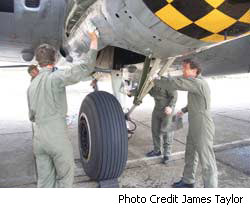 Earlier this year I found out that a TV company was looking for grandchildren of Bomber Command airmen to take part in a forthcoming Channel 4 documentary to be called 'Bomber Crew'. The idea of the programme was to put these grandchildren through some of the training that their grandfathers experienced during the war.
My Grandfather was Flt. Stephen Nolan DFC, a pilot who flew 39 Operational sorties on de Havilland Mosquitos with 142 Squadron during 1944/45. I am a 100 hour PPL holder with tail wheel experience and some time on the de Havilland Tiger Moth. After a face to face interview in London and a nervous month of waiting I was told by RDF Media, the producers of the programme, that I had been accepted and should report to Duxford in early August for filming. They sent me a pair of chunky black boots and told me to "wear them in" before arrival but would give me no details of what lay in store during the 'training'. I need not have worried a bit - the experience was absolutely amazing from start to finish!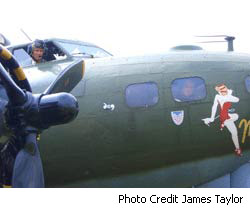 When I arrived I met my crewmates Luke, James, Tanya and Tim. Tim and James were both pilots; Luke and Tanya had no connection to aviation at all.
We were issued flying suits and driven out to Sally B where we were told that the three pilots would go through the PNB (Pilot, Navigator, Bomb Aimer) programme and the non-pilots would go through Wireless Operator/Air Gunner training. We would be flying the mighty B-17 and there was a special surprise thrown in for the 'winner' at the end of the programme…
Needless to say we were all stunned by the announcement that we were to be flying in the B-17 and before we could even catch our breath we were whisked off on familiarisation flights. My flight was incredible; made so much better by the fact that never in my wildest dreams did I think that I would get to fly in a World War Two bomber like my grandfather did. We all took the opportunity to sit in the various crew positions, except the pilot's seats and the ball turret, and by the end of the day there were five young people with five very silly grins on their faces!
The following day the training started in earnest. We were to undertake various activities from firing machine guns to aerobatics in wartime advanced training aircraft. We quickly knitted together into a team and began bombing practice and multi-engine flying as a complete crew. We also learned and re-learned some of the drills that could have saved our lives, had we been going 'on ops' for real.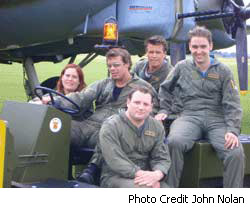 A few days further into the training we were given the chance to meet some of the men who flew heavy bombers during the war. This was a real privilege and we spent a fascinating day talking to them about their experiences. It was very humbling to realise that these brave men had risked their lives night after night for months on end despite losing many of their closest friends.
Shortly after meeting the veterans we visited the American Military Cemetery at Madingley to pay our respects to those airmen who did not return. This was an emotional moment for the crew as it brought home to us the terrible price that so many had to pay whilst flying aircraft such as the B-17 in real combat conditions.
By the beginning of the final week we were spending every waking moment together working out the finer points of our allotted jobs. Everyone was pitching in helping with Morse Code, aircraft recognition, navigation calculations and trigonometry. We were beginning to feel like a proper crew and were all thoroughly enjoying the experience! By the end of the week we felt that we were as ready as we could be to tackle the daunting task of trying to operate the B-17 on a real-time bombing mission.
It was an amazing experience for all of the grandchildren and when we climbed out of Sally B for the last time we felt like a professional and close knit crew. I believe each of us also had a better understanding of what our grandfathers and all of the brave young men of the Allied Air Forces went through to guarantee freedom for the generations that followed them.