The History

Those who operate a single-engined basic training aircraft, such as a Cessna 152, know about the costs involved; enlarge the picture to a more advanced type, such as the T-6 Harvard, or onto a warbird, such as the Mustang or Spitfire and you need to be seriously wealthy or have a decent benefactor. So how does a 55,000lb (24,950kg) four engined Second World War bomber survive? It is now 45 years since the late Ted White brought a Boeing B-17 Flying Fortress from France and based it in the UK. That Sally B is still with us, here in the UK, after this length of time, is nothing short of a miracle.
Built as a Boeing B-17G-105-VE c/n 8693, the future Sally B was one of the last to be constructed by the Lockheed-Vega plant at Burbank, California. Accepted by the United States Army Air Force (USAAF) as 44-85784 on June 19 1945 it was too late to see war service, and was flown to Nashville for modifications. Converted for training purposes and re-designated TB-17G, it was based at Wright Field (now Wright-Patterson AFB), Ohio from November that year.
Continuing in the care of 2750th Air Base Group (ABG), '784 was selected for use as a research vehicle and in 1949 allocated EB-17G status. As such the B-17 was used in a variety of research roles, one of the most bizarre being the addition of a man-carrying pod on the starboard wingtip. Also fitted at the time was an infra-red tracking device in place of the Perspex nose. These trials continued for some years in a variety of guises and it was not until 1954 that '784 was returned to standard configuration, less armaments, at Hill AFB in Utah. No details have emerged of the trials which this aircraft was involved in.
In France the Institut Geographic National (IGN) had purchased several B-17s after the war for survey and mapping work, and added others as necessary; '784 arrived in November 1954 and was given the French registration F-BGSR. Based at Creil, these aircraft carried out work for the French government, and others, faithfully for many years. As they entered the 1970s it was apparent that the cost of operating the Flying Fortresses was getting prohibitive, also spares were becoming something of a problem. The IGN replaced the B-17s with other aircraft, including the purpose-built Hurel-Dubois HD.34.
Arriving in the UK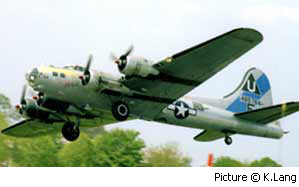 Businessman and pilot, Ted White brought F-BGSR to Britain via Biggin Hill to the Imperial War Museum Duxford, as N17TE, in March 1975, to begin a new life as Sally B, named after Ted's long-time companion Elly Sallingboe. Sally B made her debut at the 1975 Biggin Hill Air Fair, flying as the USAAF World War Two Memorial Flight. The struggle to operate Sally B successfully in this important role had begun.
In order to operate the aircraft successfully, an engineering support group was set up and many volunteered their help to work on the aircraft. A permanent operating base was set up at Duxford, which, at that time, was an up and coming centre for aircraft preservation operated by the Imperial War Museum. Kept in flying condition by volunteers from the newly formed Duxford Aviation Society, the Fortress was painted in the 457th Bomb Group, USAAF 8th Air Force, based at Glatton during the Second World War, but retaining her original serial number 485784.
Sally B continued to be flown at displays as a memorial to the 79,000 US airmen who died fighting in the skies over Europe between 1942 and 1945. In October 1979, a distinguished audience assembled at Duxford to see Colonel John Vanden Heuvel DSC unveil a plaque fitted in Sally B's radio room, dedicated to the fallen airmen, thus putting an official seal of approval upon the aircraft's role as a flying memorial. No silent, cold memorial this, but a living tribute to the dead, borne aloft with the thunder or engines into the sky that they knew and loved and in which they fought and died.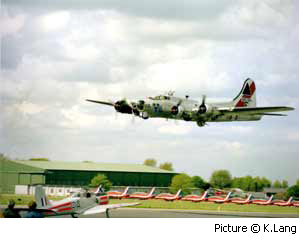 In 1980, Ted White and Elly Sallingboe formed the Sally B Supporters Club, in order to raise much needed funds, and in response to the huge interest and support which was shown for the aircraft at her display appearances. The Club has, over the years, produced a loyal and hardworking band of supporters, which has become the life-blood of the operation.
Things were gathering momentum and in 1981, Sally B was introduced to a wider audience through her first TV role as B-17 Ginger Rogers in London Weekend Television's (LWT) We'll Meet Again, which was filmed at West Malling airfield and surrounding villages in Kent. At West Malling, Ted saw an ideal venue for his dream of an all-vintage air show, which would raise funds for the B-17.
By 1982, plans were well underway for the first Great Warbirds Air Display (GWAD) at West Malling when tragedy struck. Ted was killed when his T-6 Harvard, G-ELLY, crashed during an air rally in Malta. Devastated by the disaster, Elly and the team pulled themselves together to hold the air display, and to continue flying Sally B as Ted would have wished. In his memory, Sally B's starboard inner engine cowling will always carry the same black and yellow chequered markings as his Harvard.
Elly recalls, "Ted's main aim in life was to keep Sally B flying as a memorial to the US airmen who died during the Second World War, and he had the utmost respect for all the members and supporters who contributed to the cause. All the crew and the team at B-17 Preservation were determined to carry on in his memory."
A Star is Born
Over the years, the GWAD became the major vintage air display in Europe. With its unique style of historic re-enactment and formation flypast, it drew audiences and aircraft from all corners of Europe. However, developers were pressing the local authorities and West Malling was sold for industrial and residential use. 1990 marked the last GWAD at the airfield, but a new venue was found at the Science Museum's Wroughton airfield. Sadly, the escalating costs and difficulties of relocating proved too much and so, rather than jeopardise the future of Sally B, the show was cancelled after the first three years. Thirteen years of magic shows had come to an end – another blow to the dedicated team. However, as well as raising vital funds for the B-17, the run of GWAD had done much to raise the profile of vintage aircraft and the importance of preserving them for posterity.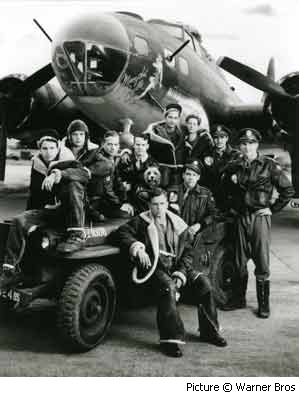 During this time, Sally B continued to display at air shows throughout the UK and Europe, as one of the most popular attractions on the air display circuit. In 1989, a major break-through came with a starring role in the film Memphis Belle. A re-make of William Wyler's Memphis Belle, the story of the first B-17 to complete twenty-five missions over enemy territory, the film graphically brought to a younger generation the role played by the Flying Fortresses during the Second World War, and the bravery and skill of their crews.
Five airworthy B-17s were collected for the film, two from France, two from the USA and Sally B. Peter Brown, Chief Engineer for Sally B, was asked by the co-producer, Eric Rattray, to be the Aeronautical Consultant for the film, and ensure that all the aircraft were in a serviceable state.
Filming began in June with Sally B as the only one of the B-17s involved fitted with smoke canisters and equipped to fire guns from the rear and ball turrets. As Elly says, "For the crew and team, who worked so hard, preparing Sally B for this massive undertaking it was a very hectic, but immensely satisfying period". Although Sally B played several different roles, she took the title role for the final, nail-biting sequence when the battle-torn bomber returns home from her final mission.
The funding from the film work ensured Sally B's immediate survival, but with the demise of GWAD in 1994, it was imperative that other ways of raising funds were found. As the years passed, Elly worked tirelessly to keep raising sufficient funds and to promote Sally B as the official USAAF World War Two Memorial Flight. The B-17 performed at many high profile historical events, including the D-Day commemorations in 1994, the VE-Day flypast over the City of London in 1995 and, almost every year, she proudly led the Memorial Day commemorative flypast over the American Military Cemetery at Madingley in Cambridgeshire. Backed by a dedicated team of volunteers and a loyal and growing membership base, the operation managed to keep afloat. Funding came via gifts in kind, expanding the membership and through the sale of merchandise, but operating such a large aircraft without a major sponsor, or government funding, was becoming almost impossible. It was a constant uphill struggle, but one undertaken with love and belief in Sally B and everything she stood for. In 1998, fate dealt another cruel blow.
Stranded at Guernsey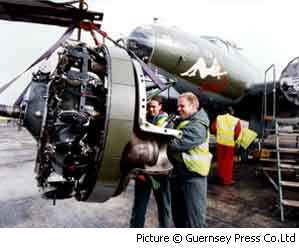 For twenty-two years Sally B had given faithful service, under the professional care of Peter Brown, and a strong team of volunteers, and had missed only a handful of shows. Of course, there had been the usual problems associated with any vintage aircraft, but none which have kept her grounded for any length of time. It was, therefore, a tremendous setback when Sally B suffered a series of engine problems during 1998, culminating in an enforced stay in Guernsey for nine months.
The situation was a logistical nightmare, as Elly says, "Here we were, miles from home, stranded on a very small island, with a very serious problem. How were we going to get a replacement engine, the engineers, tools and specialist equipment to Guernsey, where would they be based and carry out the work and, more importantly, who was going to meet the costs? We really were in dire straits, it was September with winter just around the corner – how on earth were we going to get Sally B home?"
Elly rallied the team and began the seemingly impossible task of bringing the aircraft home. "I was with everyone at the airport and they could not have been more supportive. KLM UK came up with 90% rebate travel to and from Stansted whenever needed for the engineers and crew; the airport manager waived all departing and landing charges; Condor Ferries and Philip Meeson of Channel Express offered to transport engines and tools and several hotels gave a reduced rate for the crew. More support came from our loyal members, who responded to our appeal and gave nearly £9,000. On the island, Ellen Chalmers set up a Channel Islands Friends of Sally B appeal, which raised £3,000. Shell proved oil and our old friend Les Taylor, of Precision Cargo, arranged all shipment and clearances of the engine free of charge. Aircraft Service Guernsey (ASG), a family-run engineering firm were fantastic, they gave us the use of all their facilities and the benefit of their specialised expertise in engineering, which proved absolutely vital. They could not have done more for us during the difficult period. When it was realised that this enforced stay was going to be lengthy, ASG sprayed the aircraft, inside and out, with the latest anti-corrosion treatment, the American produced Corrosion-X, which protected the aircraft from the elements."
Finally, after a long wait over the winter months and lengthy negotiations, the replacement engine arrived and was fitted to the stranded B-17. At long last, following ground runs and an air test, Sally B took off for home, arriving back at Duxford on April 22 1999.
Immediately on arrival the aircraft was once again grounded – for the first time in the Sally B's long history through lack of funds; there was now no money left. Before and during the enforced stay in Guernsey, B-17 Preservation had been offered a "considerable amount of money" for the aircraft. In these circumstances, the offers were tempting, but were, nevertheless, declined. Elly was determined to find an alternative way forward and Sally B was not for sale.
A long, hard look was taken at the situation. Elly again takes up the story, "We were approaching our Silver Jubilee year. Having gone through so much over the years, it was devastating even to have to consider that the only option left was to sell Sally B. Things had never been as serious as this financially, and after twenty-five years, this looked like the end."
A New Way Forward - Charitable Status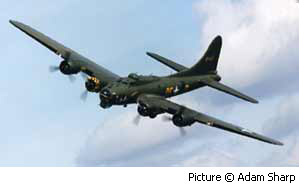 Following consultation and careful research, it was agreed that the way forward could be to try and obtain charitable status, as this would hopefully give greater access to funding sources. It took eight months before charitable status was granted, and the B-17 Charitable Trust came into being in March 2000.
The main objective was to preserve the aircraft for the education and enjoyment of future generations, in order that the important role played by the B-17 during the Second World War, and the courage of the crews, would not be forgotten as time went on. Sally B's role as the USAAF 8th Air Force Memorial Flight and her rarity, not only as an airworthy example, but also as the only flying B-17 in the UK, make her a very important part of aviation history.
Officially launched in May 2000, the Trust was given a grant of £20,000 by the Imperial War Museum Duxford. In a special partnership, Sally B became the official flagship of the American Air Museum in Britain, part of the Imperial War Museum complex. Patron of the Trust is Air Chief Marshal Sir John Allison, a well-known display pilot and a friend of Sally B's from the earliest days. As he says, "Sally B's real importance is as a living reminder of the courage and sacrifice of the men who flew such aircraft from these shores during the Second World War."
The Trust currently has four Trustees; Elly Sallingboe, Edward (Ted) Inman, Laurence Chandler and Peter Kuypers.
Fundraising efforts continue, but much hard work still lies ahead even though the future is looking more positive. The charity has a long way to go and funds are vital if Sally B is to survive. Anyone can join the Supporters Club or make a donation and, in doing so, they will be playing a real part in keeping Sally B in the air and securing her future in the UK.
Sally B's story is not just of an aircraft, but of a group of people who have struggled against impossible odds and personal tragedy in pursuit of a dream, to keep a piece of history they value alive. Today their struggle and their sacrifices have outshone even the original dream and Sally B has become a piece of history in her own right. In 2020 Sally B has been in the UK for 45 glorious years.
Final Thoughts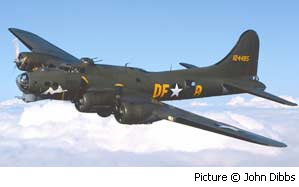 "Sally B is a credit to the memory of the men who flew, maintained and supported the bomber and fighter aircraft of the 8th Air Force. It's heartwarming to see that people like you keep alive the memory of what our veterans did here over 75 years ago. The impact that the graceful sight and thundering sound of Sally B in the air had on the 900 veterans, active duty Air Force and local citizens is indescribable."
Jeffrey B Kohler, Colonel USAF Commander
"Without the B-17, we might have lost the war."
Gen Carl A Spaatz