Please note!
Due to Covid-19 restrictions, the 2020 and 2021 Roll of Honour Ceremonies in the Airspace suite at Duxford sadly had to be cancelled. Donations received for the two delayed events have therefore been forwarded to the 2022 event on 14 August, when the participants will finally have their special day at Duxford. As a result, the 2022 event is now fully booked and we cannot take more bookings for the event itself, however much we would like to and need your donations.
However, because Sally B desperately needs your donation, we are offering to have your chosen name added to your favorite aircraft in August 2022 at a discounted rate, see below: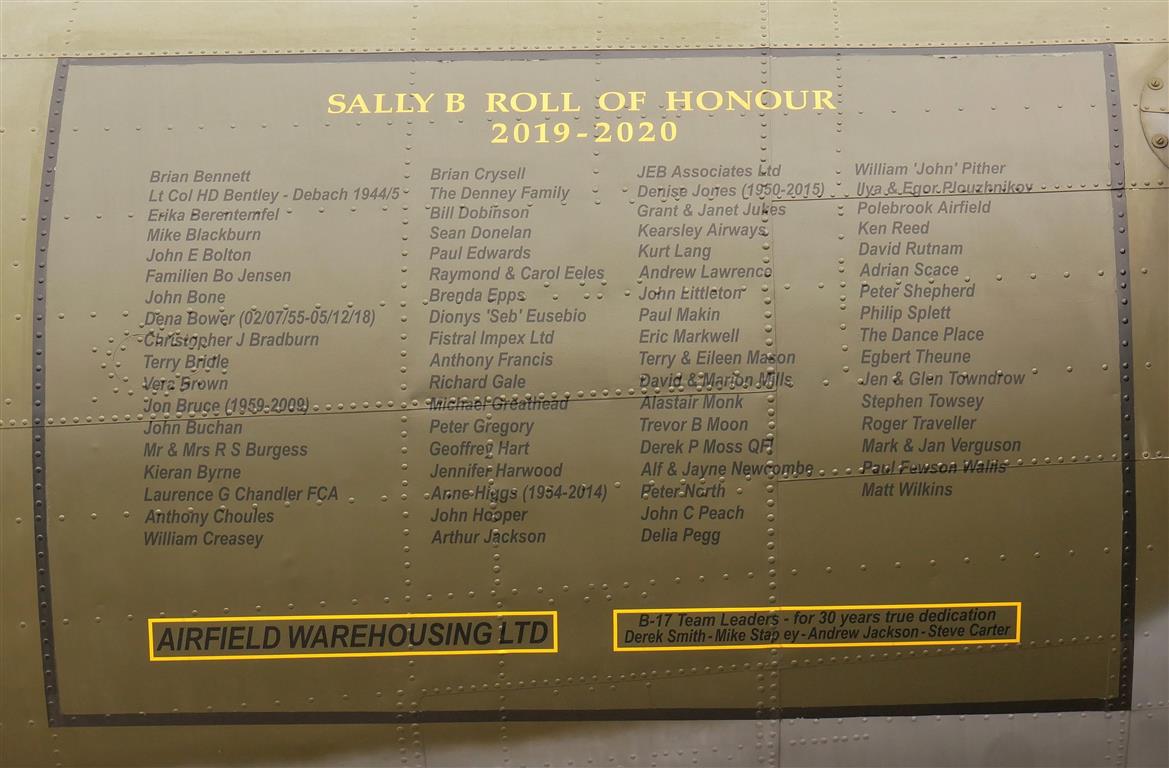 Have your name on Europe's last remaining airworthy B-17 Flying Fortress Sally B
Donate £250 (non-members £300) or more to help keep This unique B-17 flying and have your name or a name of your choice added to the prestigious Roll of Honour on the rear fuselage on Sally B for one whole year.  
We will recognise your generous support by:
adding your chosen name to the Roll of Honour for one year

enter your name into a draw for the once-in-a lifetime chance to be trained as a crew member, including an orientation flight in Sally B*

Your name will be entered into a draw for a taxi ride in Sally B
The American bomber crews who flew out of British bases during the Second World War became renowned for their custom of adorning their aircraft with "unofficial" artwork, and many a B-17 was adorned with crew members' own names, or perhaps that of a sweetheart left back home. Sally B flies as a tribute to those brave young men, and the Sally B Roll of Honour offers you the chance to follow in the time-honoured tradition of having your name - or another of your choice - inscribed on the outside of the aircraft's fuselage for one year.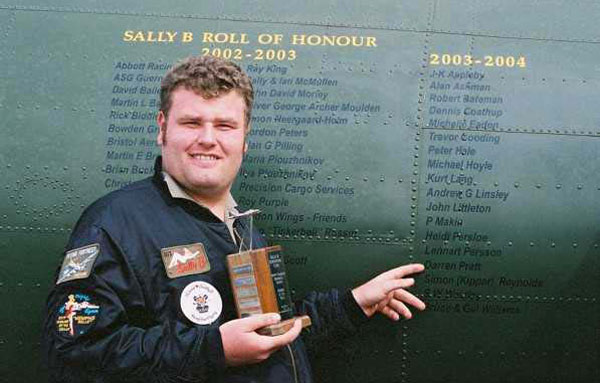 We have designated a panel on the outside of Sally B's fuselage known as the Roll of Honour where those contributing £300 (£250 for Sally B Supporters Club Members) or more to help keep Sally B flying can have the name of their choice inscribed for one year.