To view previous years News, please visit the News Archive
Message from B-17 Operator Elly Sallingboe
Today we received the great news from the CAA that our aircraft is again airworthy AND allowed to fly!
You will recall that five weeks ago the American FAA issued an airworthiness directive (AD) to B-17 Operators, to check the main spar fittings for cracks, meaning that all flying B-17's were grounded.
This happened a few days before the beginning of the 2023 flying season, and although we were disappointed, we had no other choice than to ground the aircraft and do the checks. 
Because Sally B had left her winter home in hangar T2 North at IWM Duxford a few weeks earlier, we now urgently needed hangar space to complete the checks. And guess what - the Imperial War Museum came to our rescue allowing our B-17 into their vast Airspace Hangar, thank You IWM. Once inside, the volunteer Sally B engineering team led by Chief Engineer Daryl Taplin and his deputy Steve Carter stepped up, and soon the wing spar was ready to be inspected by the "Non-Destructive Testing" specialists
After a lot of work, the Engineering Team finished the structural repairs on the wing and wing ribs – a massive job. The results containing the great news were then sent to the CAA and the FAA, who today gave us the go-ahead and our aircraft is now airworthy again. Thank You, all of you who made this happen.
Our B-17's first flight will be test flying and crew training at Duxford and Cambridge tomorrow, Friday 23 June, followed by the Duxford Summer air show on 24 and 25 June. A full list of shows can be found on our website under Flying programme.
-------------------------------------------------------------
Update Statement by B-17 Operator Elly Sallingboe on the Impending FAA B-17 AD

23 May 2023
After careful consideration it has now been decided to ground our beloved B-17 until the ongoing wing spar issue is sorted.

As I write this, we are working flat out to complete this difficult task, helped by our devoted team and many friends.

Thank you IWM Duxford for giving us space in the AirSpace Hangar to carry out the required work.

More news will follow shortly.
-------------------------------------------------------------
Statement by B-17 Operator Elly Sallingboe
on the Impending FAA B-17 AD
Many of you will have heard the rumours about the impending FAA mandatory Airworthiness Directive (AD) on the wing spar issues on all airworthy B-17s.
While we are aware of the wing spar issues -  and concerned that the FAA could issue an Emergency Airworthiness Directive, which would affect us all -  we will not speculate but wait until the EAD is issued.
In the meantime, our Chief Engineer, Daryl Taplin, is in contact with the FAA, the CAA, and some US B-17 Operators via the B-17 Co-op.
As I write this, we hope that the 2023 season will go ahead as planned. Sally B will leave the hangar at Duxford by the middle of May for engine ground runs followed by test flying and crew training a few weeks later. Her first display is on the 27 May, followed by our tribute to the many at the American Military Cemetery, Madingley on Memorial Day.
The wing spar and the spar caps have been the subject of earlier AD's for more than twenty years. Each winter, our engineers complete a comprehensive CAA-approved check with the help of NDT (Non-Destructive Testing) specialist Kearsley Airways. Also, our pilots have flown Sally B very gently, with low G loads for many decades.
We trust that our B-17 is structurally sound and can hopefully fly for many more years.
Elly Sallingboe
Aircraft Operator & Chairman of Trustees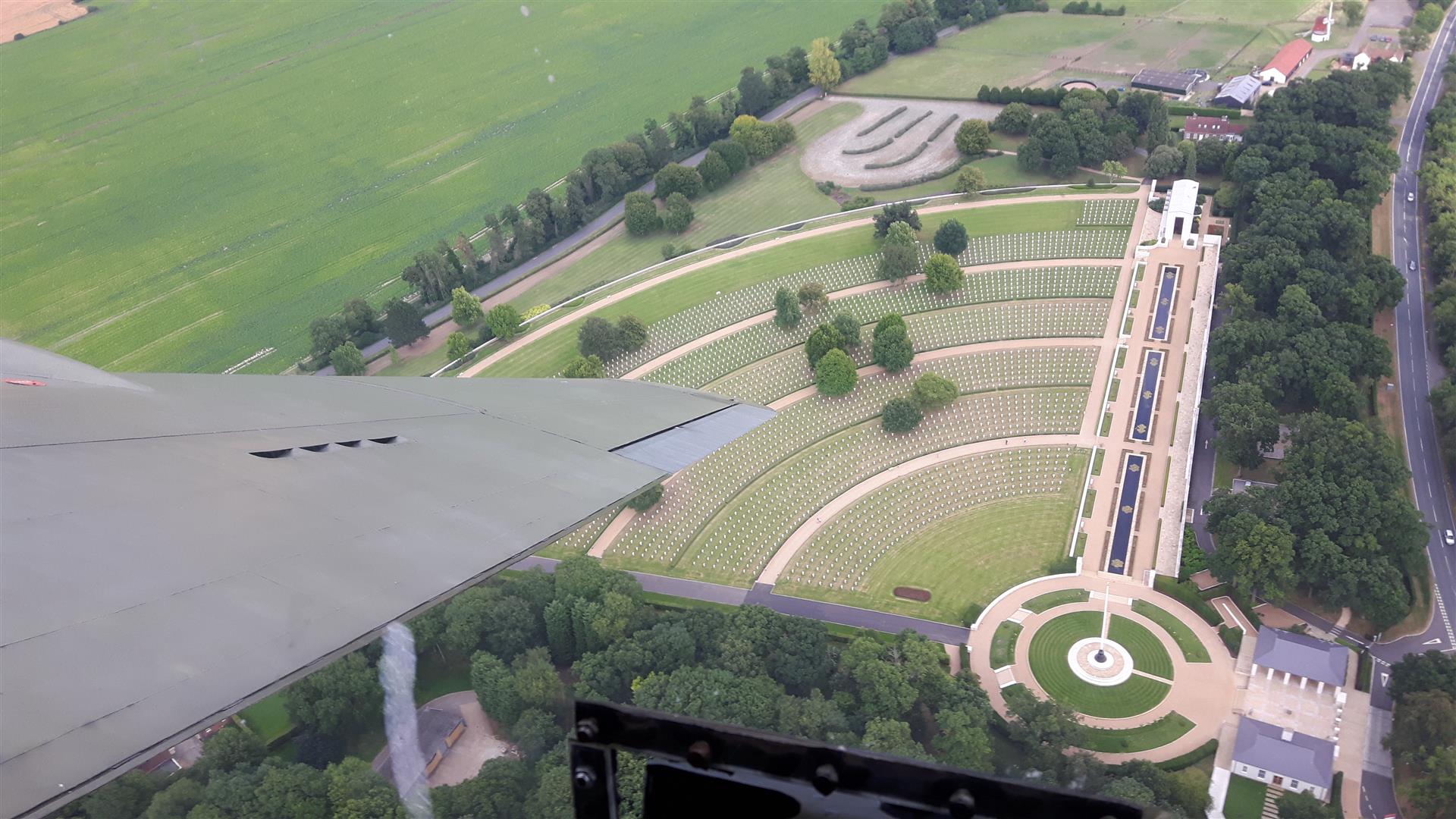 Sally B over Madingley Military Cemetery - credit Simon Howell
-------------------------------------------------------------
Last Sunday for Members visit to Sally B

Dear Sally B Supporters Club members,
Sally B's last flight in 2022 was at Duxford for the Battle of Britain Air Show on the 11 September.  After a short but successful summers flying, Sally B will now be readied for her winter residence in Hangar T2 North, where she will be protected from the worsening weather and where her winter maintenance will soon begin.
Therefore, members, PLEASE NOTE that the last Sunday for your visit and tour of  Sally B will be Sunday, 18 September. On this, the last Sunday before her maintenance begins two team members, Andy Jackson and Nigel Bird, will be at Duxford to show you in and around the aircraft between 11 am and 3 pm.  Please also note that as we are parked on the live side of the airfield, young children will not be allowed in or around the aircraft; they must be at least 10 years old and escorted by an adult.
Because Sally B will be in the hangar for the last display at Duxford on the 8 October, she will not be available for members' visits until next Spring.
Elly Sallingboe
B-17 Operator & Chairman of the Trustees
------------------------------------------------------------------------------
Tribute to Ted White at Biggin Hill

On the 22 June 1982 Ted White, founder of B-17 Preservation was killed along with his close friend Mark Campbell when Ted's Harvard G-ELLY crashed in Malta. In his memory Sally B's starboard inner engine cowling will always carry the same black and yellow chequered markings as his Harvard.
In June this year, it is exactly 40 years since this tragic accident happened. To honour Teds memory in this special year, we will overfly Biggin Hill Airport on Friday 24 June early afternoon.  Biggin was the place he loved the most.   
Elly Sallingboe
Ted's Harvard in perfect formation with Sally B - 1981
------------------------------------------------------------------------------

The close-knit Sally B family was deeply saddened by the news of the death of Chief Engineer for forty plus years, Peter Brown, who died on the 10th of June following a short illness.

Peters contribution to the aircraft and the Sally B organisation was second to none. His inspiration, engineering knowledge and tenacity have kept our B-17 flying for more than four decades; our aircraft could not have had a better ambassador, nor indeed could it be better represented. 

A brilliant and warm person, engineer and team leader, he will remain in our hearts for as long as we live - he will be sorely missed.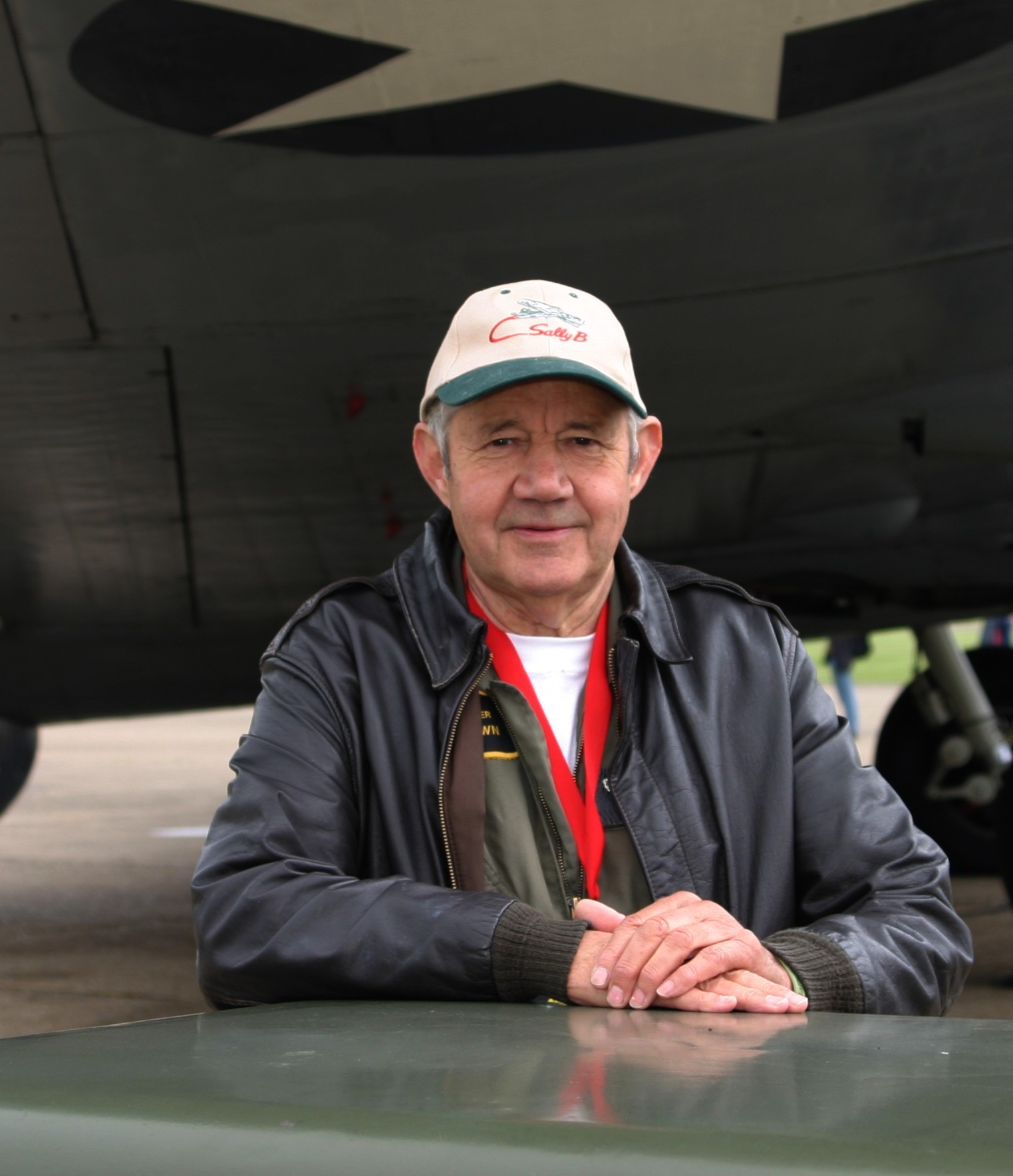 ------------------------------------------------------------------------------
As a special perk, only YOU (our members) can enjoy exclusive, free access to the inside of Sally B. The general public cannot go inside unless they join up! 
You can visit Sally B at Duxford on many Sundays during this summer, from 13 June to end September. At duxford, a team member will show you inside and around the aircraft between 11am and 3pm on the Sundays listed below. Do please note that young children will not be allowed through or around the aircraft; they must be at least 10 years old and must be escorted by an adult.

The Sundays for members visiting Sally B during the 2021 season are:
June: Sunday 13.
July: Sundays 4, 11 and 18.
August: Sundays 15, 22 and 29 August.
September: 12 and 26 September.
Members can also get access to Sally B at Duxford on any of the Air Display and special event days which include the Flying Days, but please do note that members do not get free entry on any of these days. 
------------------------------------------------------------------------------
Sally B is back in her enclosure at Duxford!
By B-17 Operator Elly Sallingboe
18 May 2021
After 20 months, Sally B, Europe's only airworthy B-17 Flying Fortress, is back ready to begin her 45 display season this summer.
Grounded since October 2019 by Covid-19, this much-loved aircraft left the hangar at Duxford on the 12 May after 20 months under cover while grounded. Thanks to Duxford for keeping her warm and safe throughout these many Covid months.
Arriving outside, she looked stunning in her new coat of paint glowing in the May sunshine.  Well done to her incredible Team of engineering volunteers who have completed a brilliant job.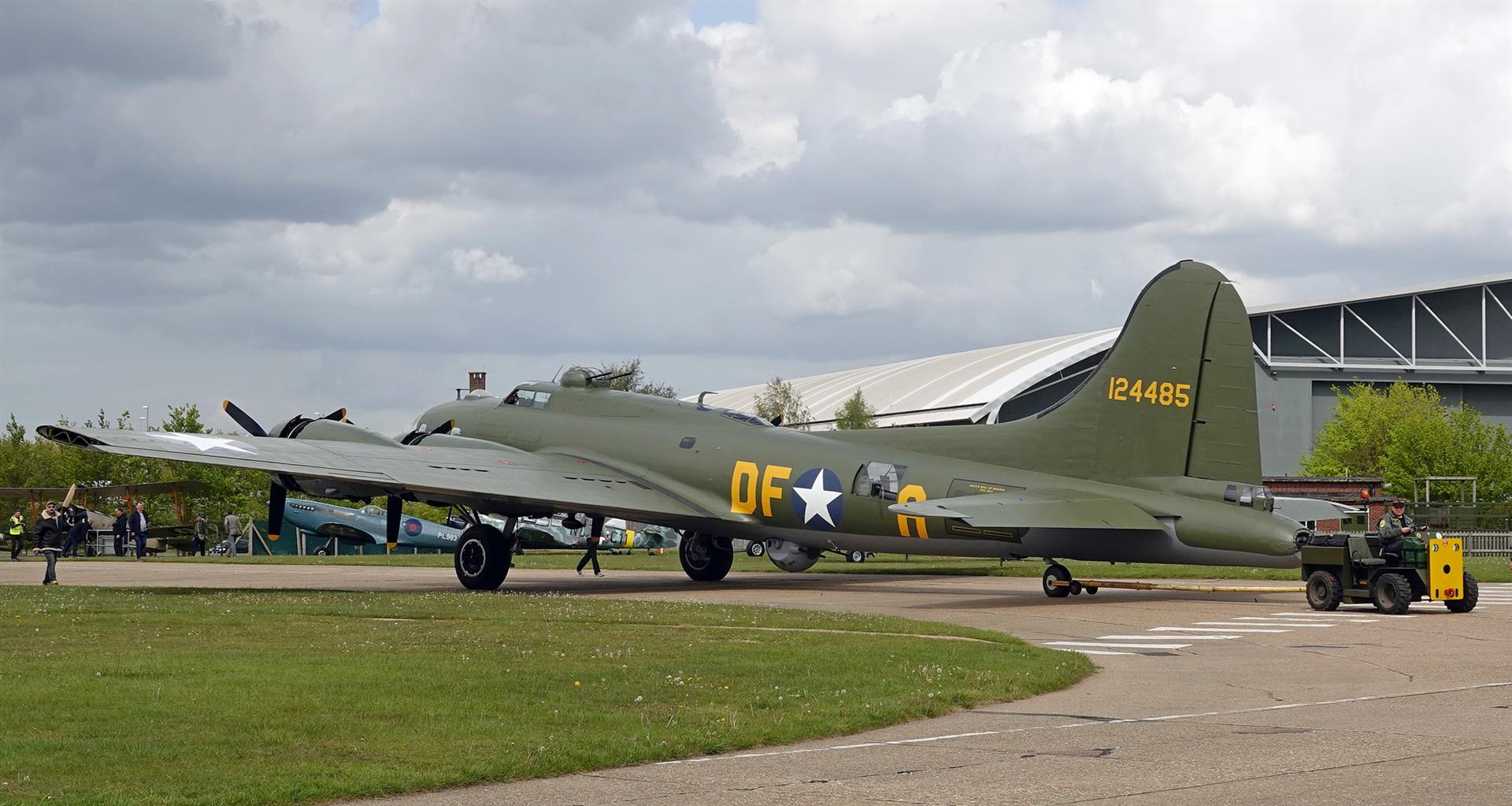 Once back in her usual enclosure, all four engines were successfully test run followed by smiles and cheers all around – it was a huge sigh of relief to see all engines run perfectly!
As I write this, the engineering team is preparing Sally B for her first flights on the 30 and 31 May when the aircraft will be test flown and the pilots re-trained after their long absence from flying the B-17.  
There will not be many shows this season, but we hope to display at the Midlands Air Festival, Duxford, Headcorn, Old Buckenham, Cosby and RAF Abingdon.
Of course, all this is dependent on the Covid Lockdown easing as per the governments planning.
It cost a lot more to fly Sally B than it does to keep her on the ground, but fly we must for the good of the aircraft; its pilots and, of course, for her many members and friends whose support, kindness and donations paid for some of the very high costs -  thank you all so very much.
Let us hope that this horrible pandemic will soon disappear and that things will be back to some kind of normality.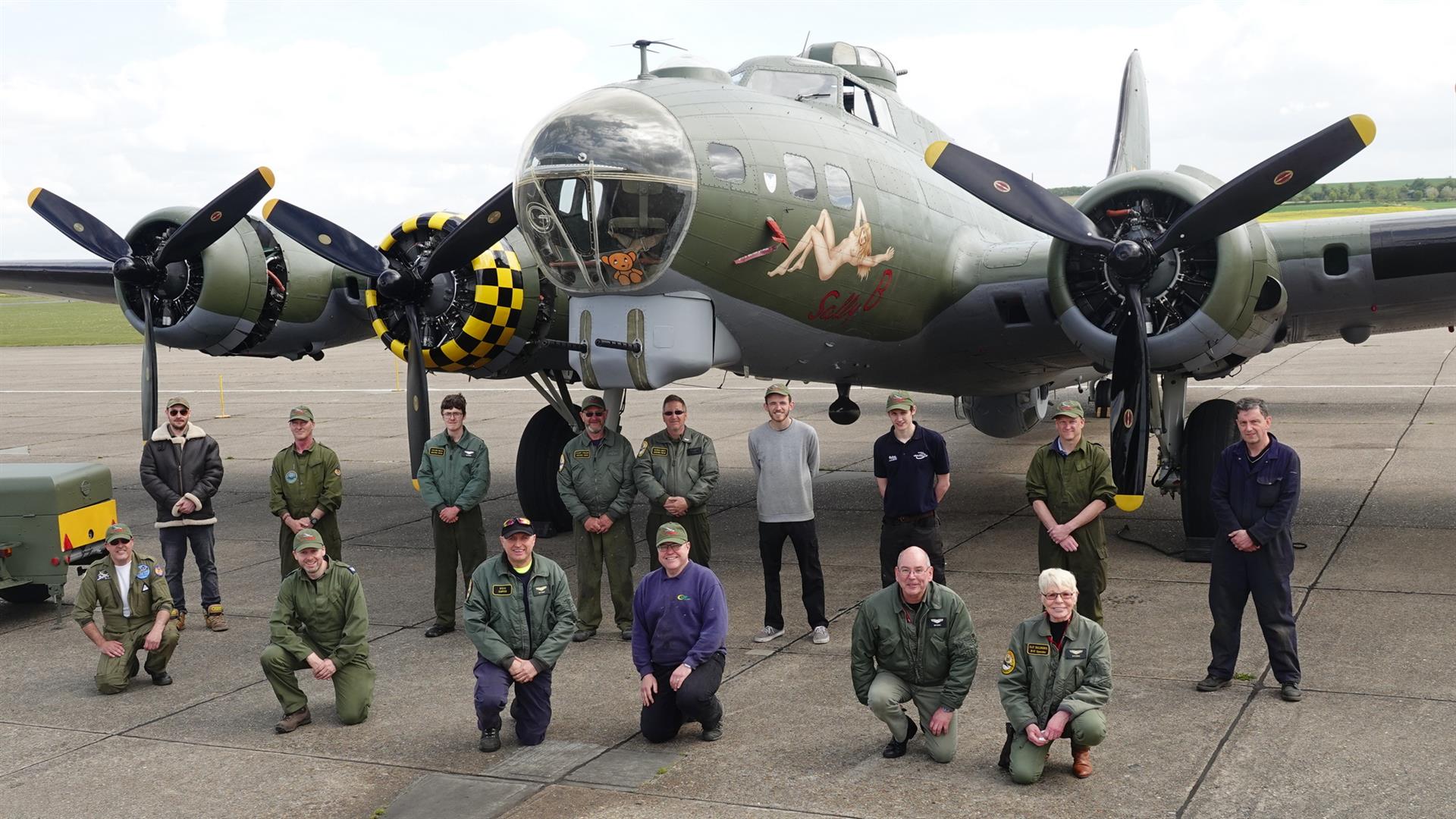 The Engineering Team with Operator Elly Sallingboe  - all are very proud of their accomplishments. Both Photos: David Whitworth 
------------------------------------------------------------------------------
A Sally B Anniversary year like no other
By B-17 Operator Elly Sallingboe
18 January 2021
First, I would like to thank those of you who donated to the Sally B Appeal throughout these challenging and ever-changing Corona times. And, for those of you who have not donated, please help us, we need your help now more than we ever have before. Please go to the Sally B appeal – thank you so very much.
        
 2020 Should have been a mammoth celebratory year for our aircraft, the 45th Anniversary of Sally B's arrival in the UK; her 75th Birthday and the 75th VE Day - and an astonishing 40th anniversary of the Sally B Supporters Club. Instead, Covid-19 stopped all that, and our B-17 has spent the entire 2020 grounded in Hangar T2N at Duxford.

To summarise: When IWM Duxford closed its door to the public in March 2020, followed by the cancellations of most airshows, I reluctantly had to suspend all work on Sally B.
     
In June, to save funds, there was no option left but to cancel all flying of our
B-17 for the entire 2020 display season.
      
Once the lockdown ended, Sally B's loyal maintenance team continued their work. They completed the winters maintenance and used the extra time available to give the aircraft some tender loving care.
As I write this, we are in the middle of another lockdown, the third and without doubt the worst.  But the latest news on the Covid Pandemic Vaccine does indeed give us hope for the future and the chance of getting some normality back in our lives by summer – all fingers crossed this will indeed be the case.
        
We hope to fly in 2021
Therefore, with the invaluable support from members and friends and the hard work put in by the team at Duxford, I am now planning the 2021 display season for our B-17.  AND, with a few more donations and a little bit of luck, Sally B should be back in the air by late spring or early summer 2021!
     
Look at our website in April www.sallyb.org.uk  when you will see a list of shows for the coming season.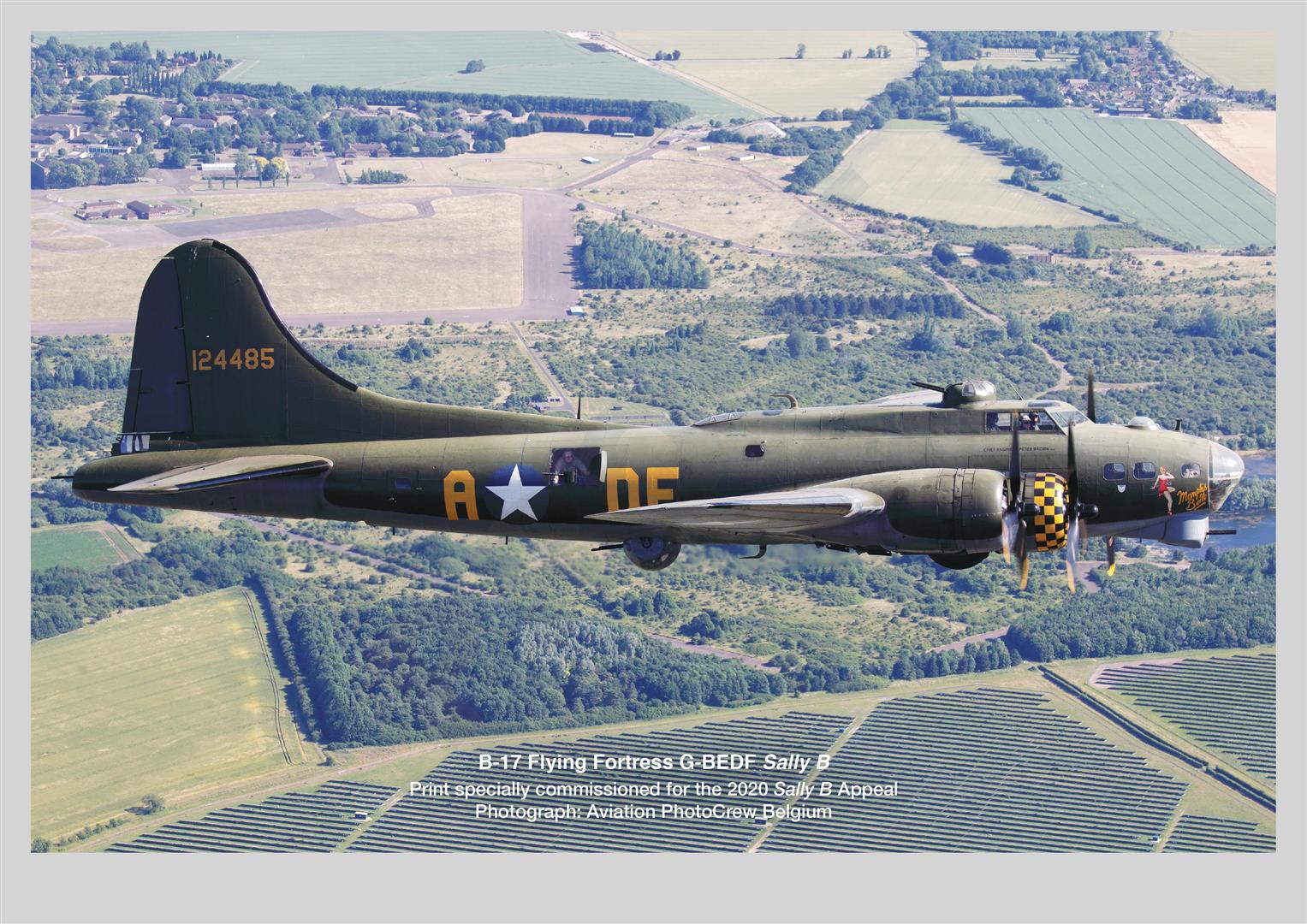 -----------------------------------------------------------------------------
29 June 2021
When IWM closed its doors to the public in March we were ready to embark on a very special year for our B-17, celebrating the 45th Anniversary of her arrival in the UK; her 75th Birthday and the 75th Anniversary of the end of WWII in Europe. We should have been well on the way to celebrate this special year and pay our traditional tribute to the many laid to rest at the American Cemetery at Madingley. But this was not to be.
When June arrived, the deadly COVID-19 crisis had hit hard across the globe with the majority of the UK's airshow season cancelled or postponed. After much reflection, I had no option but to make the painful decision to cancel all flying of our B-17 for the entire 2020 display season, including the cancellation of our Roll of Honour Day in August.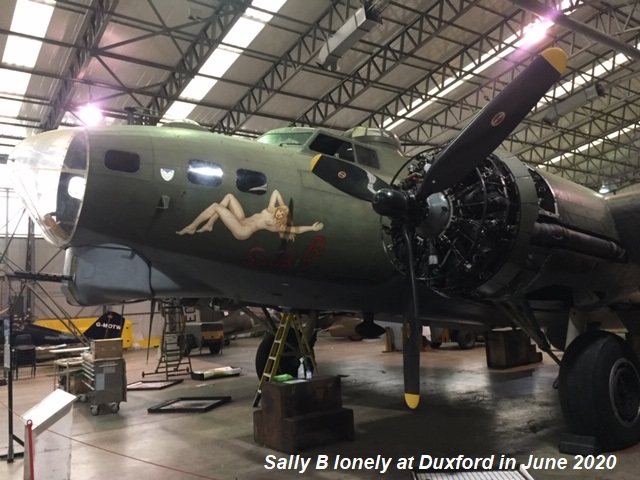 While we wait for better times, it is good to know that our B-17's maintenance was almost completed when the Coronavirus arrived and that Sally B is safe under cover in hangar T2 North at Duxford where she will remain out of the rain and wind, until spring 2021. Thank you IWM Duxford for your outstanding help with this.

With our B-17 grounded this year there is no revenue from airshows, no revenue from the walk throughs and from our sales stall at Duxford.  Meaning there is no  income to offset the high costs still needed even if Sally B is not flying, such as insurance, maintenance, engine repairs, spare parts, regulators fees, etc. Therefore, please, please do help us if you possibly can. Do look at our 2020 Anniversary Appeal on how you can help.

Sally B Needs You!


Elly Sallingboe
B-17 Operator & Chairman of Trustees

------------------------------------------------------------------------------

Stop Press - Coronavirus & Sally B


2nd April 2020

Due to the spread of the devastating Coronavirus, Sally B's 45th display season now looks extremely uncertain.

When IWM closed its doors to the public on the 18th March, I had to make the upsetting decision to suspend all work on Sally B by our superb engineering team until things change.

As I write this, it is impossible to predict how long it will be until it is safe for any of us to continue with our work on Sally B or indeed when or if she will fly this season.

While we wait for better times, it is good to know that our B-17's maintenance work has almost been completed and that Sally B is safe under cover in hangar T2 North at Duxford where she will remain till things improve.

Thank you, our dear members and friends, for your invaluable help throughout the past many years.

Keep well, keep healthy

Elly Sallingboe
B-17 Operator & Chairman of Trustees

------------------------------------------------------------------------------

25th January 2019

I will remember the 2018 display season for its very hot weather and for having a serviceable aircraft throughout the season, thanks to Chief Engineer Peter Brown and his
dedicated team of volunteers and of course not forgetting our brilliant pilots. 

Sally B's last air display of the 2018 display season was at the Battle of Britain air show at Duxford on the 29/30 September, this was a hugely delightful show, where else would you see 18 Spitfires in formation - what a sight!  Thus, our B-17's 43rd display season ended on a high - another most successful one for our aircraft.  Sally B behaved well throughout, even Smokey Joe did not let us down, often hesitant, but with a little smooth handling from the pilots, did eventually start.  The weather also played ball, during this incredibly hot summer we only had to cancel two displays when the weather turned against us, so all in all things went very well.


Sally B went in hangar T2 North at the end of September for another winter rest while the annual winter maintenance is taking place.


The 2018 display season was a good one but saw fewer bookings for Sally B than ever before, and therefore we must now look beyond air shows and flypast for our survival. There are rumours out there that the time may soon come when the CAA allows multi-egined aircraft to carry passengers under the new SSAC rules, which has been in place for single-engined WWII fighters for quite a few years now.  I am concerned that even if we did get permission, it is just not feasible or safe in this B-17. The aircraft's layout and safety aspects would need to change, and the seating capacity increased and so on. Not an easy option, as to rectify this would be a time consuming and extremely costly job, while still only allowing us to carry two people! 


Therefore, passenger flying is unfortunately out of the question, at least for the time being, but we will most certainly explore what is possible. 


In the meantime, we will be looking into a gentle way of carrying out "Fly With" and "Photo Flights", whereby passengers fly in a separate aircraft, such as a DH Devon, which in turn would formate with Sally B for close up viewing as well as photo opportunities. The flying would be more relaxed and, above all, more affordable. Hopefully, this is something we will be doing in the near future – watch this space….. 


Let's not forget, Sally B is a living, breathing part of people's sacrifice and human heritage. She is a unique piece of living history and a symbol of the freedom we all share today. Together we have kept his historic symbol in the air for now 43 years, now let's make it 44 – with your help we can.

Elly Sallingboe
B-17 Operator & Chairman of Trustees

------------------------------------------------------------------------------

Sally B ready for her 43rd Display Season

23 May 2018

On the 25th April, following a busy winters maintenance, Chief Engineer Peter Brown and his team escorted Sally B out of Hangar T2 at IWM Duxford onto her designated summer residence, on the pan next to the control tower. Here she will remain until the end of September– fingers crossed for reasonable weather while she is outside!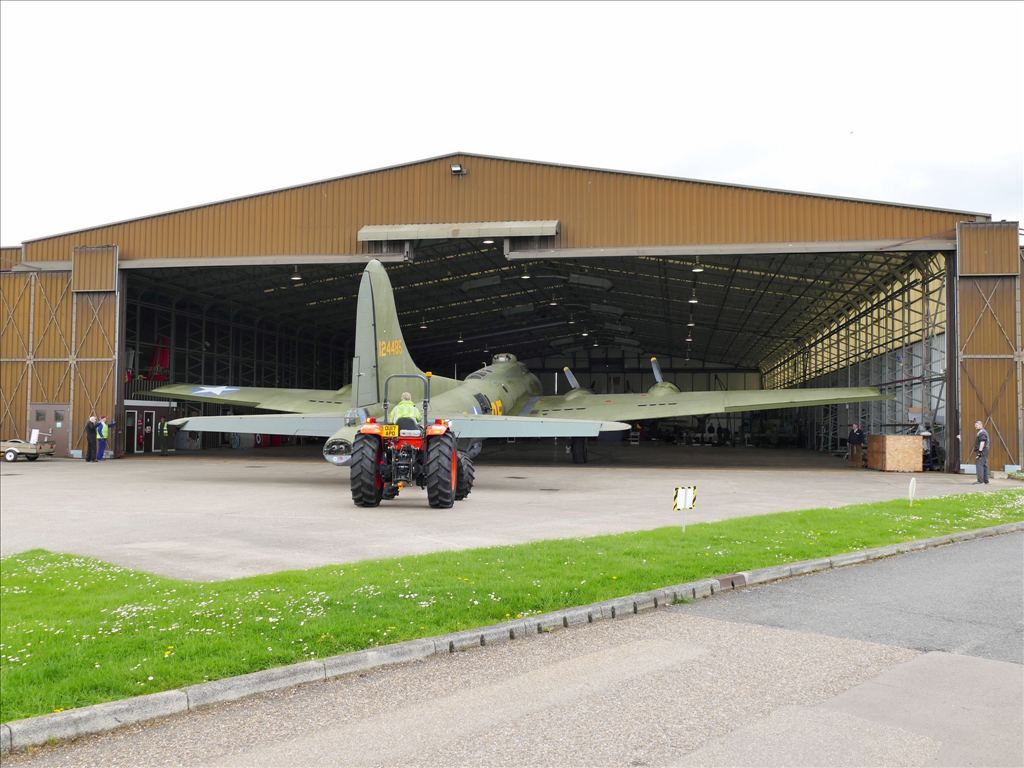 tight  squeeze to get Sally B out of hangar T2 - photo Stuartt Tamblin
Much was achieved over the cold winter months, which members can read all about in the summer Bulletin out soon. 

The first flight of the season was at Duxford on the 12th May for test flying and crew training.  Captain Andrew Dixon assisted by captain Roger Mills flew the test-flight and our B-17 performed flawlessly!  All pressures and temperatures were where they are supposed to be, and the engines rumbled without any hiccups.
With the test-flying out of the way Andrew proceeded to requalify our B-17 pilots, and then it was time to train our newest pilot Jon Corley how to fly the B-17. Jon has an extensive background flying vintage aircraft and we are delighted to welcome him to the family. All in all, a very successful day and our B-17 pilots are now fully qualified again.
Members free access to the B-17 began at Duxford on Sunday 6th May.  This will continue on each Sunday in June, where a Sally B team will be at Duxford from 11 am to 4 pm to show members of the Supporters club in and around the aircraft.  The remaining available Sundays this season will be announced in the member's Bulletin.
Our aircraft's most important and poignant engagement by far, has always been overflying the Madingley American Cemetery on Memorial Day to honour the many thousands young men of the US Eighth Air Force who were laid to rest there, and this year is certainly no exception – that is weather permitting. Captain Peter Kuypers will make three circuits over the cemetery at around 1400 on May Bank Holiday Monday to honour the fallen.
Elly Sallingboe
B-17 Operator and Chairman of Trustees
------------------------------------------------------------------------------
1 December 2017
It is difficult to comprehend that another display season for our B-17 has passed into history. It was wet, but overall a very good season. Members will read all about it in the latest Sally B news magazine now on its way. If you are not a member, why not join us today!
But, I would like to tell you about this just released little book "Sally B… & ME!", about Sally B and the lady who keeps her in the air.
It tells the story of an extraordinary 40 years journey, against all the odds, and shares the history of this amazing aircraft!
Designed as a children's book to keep the memory alive, to teach future generations the importance of the B-17's role during WWII and tells how
Sally B is a flying memorial.
This beautifully illustrated book is perfectly sized for small hands to hold and is priced at just £5.99.
For each book sold to the public, a donation will be made to Sally B via its registered Charity – the B-17 Charitable True.
You can order your copy online, direct from www.fairyfayepublications.co.uk/shop or you can buy it from www.waterstones.com and www.amazon.co.uk and it will soon be
available at most aviation museums and heritage centers throughout the UK and beyond.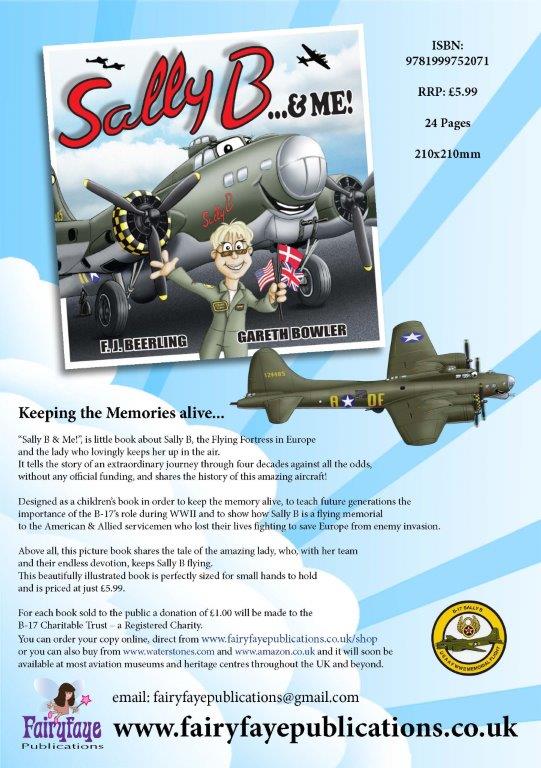 ------------------------------------------------------------------------------
An outstanding display season and beyond.........
12 January 2017
Sally B is now tucked-up safely in Hangar T2 at Duxford, where she will remain in a heated environment until warm weather returns in Spring.  As you read this, our indispensable Chief Engineer, Peter Brown, and his team of volunteers are well into work for the annual winter maintenance.

The 2016 display season for Sally B came to an end at Duxford's Battle of Britain show on the on the 11th September after a successful summer despite the overwhelming new CAA legislation which made displaying the B-17 more difficult and, at some venues, even prevented our appearing.  We also missed a few venues because of weather and unserviceability, but considering what a difficult year it has been, with countless hurdles created in the aftermath of the tragic Shoreham accident, it is amazing that Sally B made it through her 41st display season at all. It was hard work, but in the end the 2016 display season emerged as another outstanding summer season for our aircraft. 
In December, we asked for help with replacing essential instruments on Sally B andtwo new sponsors came to our rescue, Adams Aviation by sponsoring two new Directional Gyro's and Tatenhill Aviation for an Electrical Horizon. My heartfelt thanks go out to them and to all those of you who helped and keep helping Sally B fly: crew, team, members, friends and sponsors.  This support inspires me to carry on in the face of so many obstacles.

What Brexit and the recent world changes will mean for the future of Sally B is a question no one can answer, at least not as I write this.  All we can do is hope that the horizon becomes bright and clear and will allow our B-17 to thrive. 
In closing, I can do no better than to re-state my aim for Sally B: "to keep this B-17 airworthy and in the UK as long as humanly possible, as a Flying Memorial to the many young men of the Mighty Eighth who gave their lives for our freedom".  This is, and always has been, my aim.  We have reached 41 years, so now let's make it 42.  And with the help of all our friends, I'm sure we can!
Elly Sallingboe
B-17 Operator and Chairman of Trustees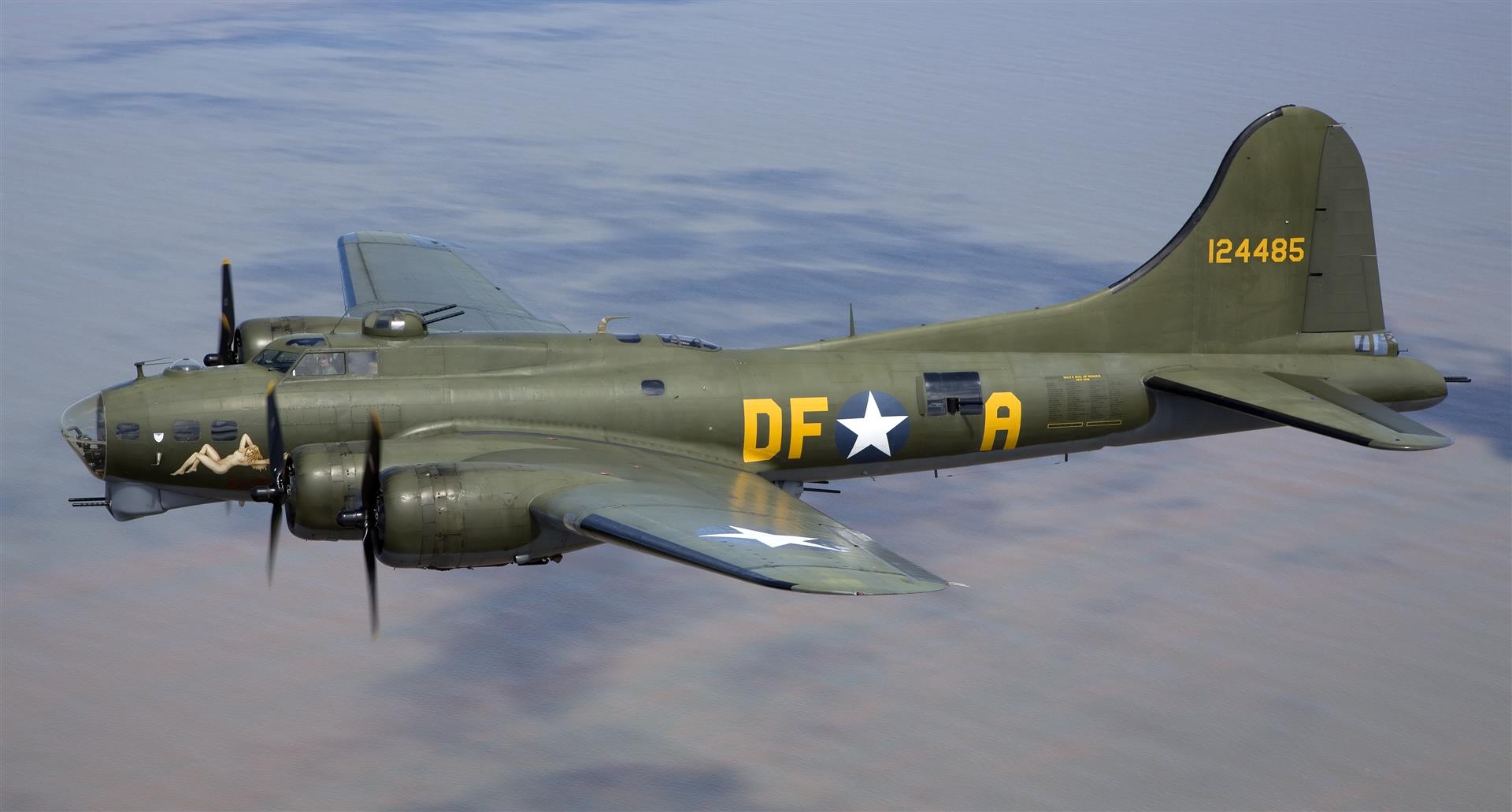 Flying over Bridgwater Bay July 2016, credit Aviation Photocrew Belgium
------------------------------------------------------------------------------


Sally B starts her 2016 season
12 May 2016
I am delighted to tell you that we test flew Sally B yesterday and trained all but one of our 5 pilots – all went well, Sally B behaved herself and her engines purred beautifully, so all in all despite the weather a good and successful flight.
She is now ready for her 41st display season.
Elly Sallingboe
B-17 Operator & Team leader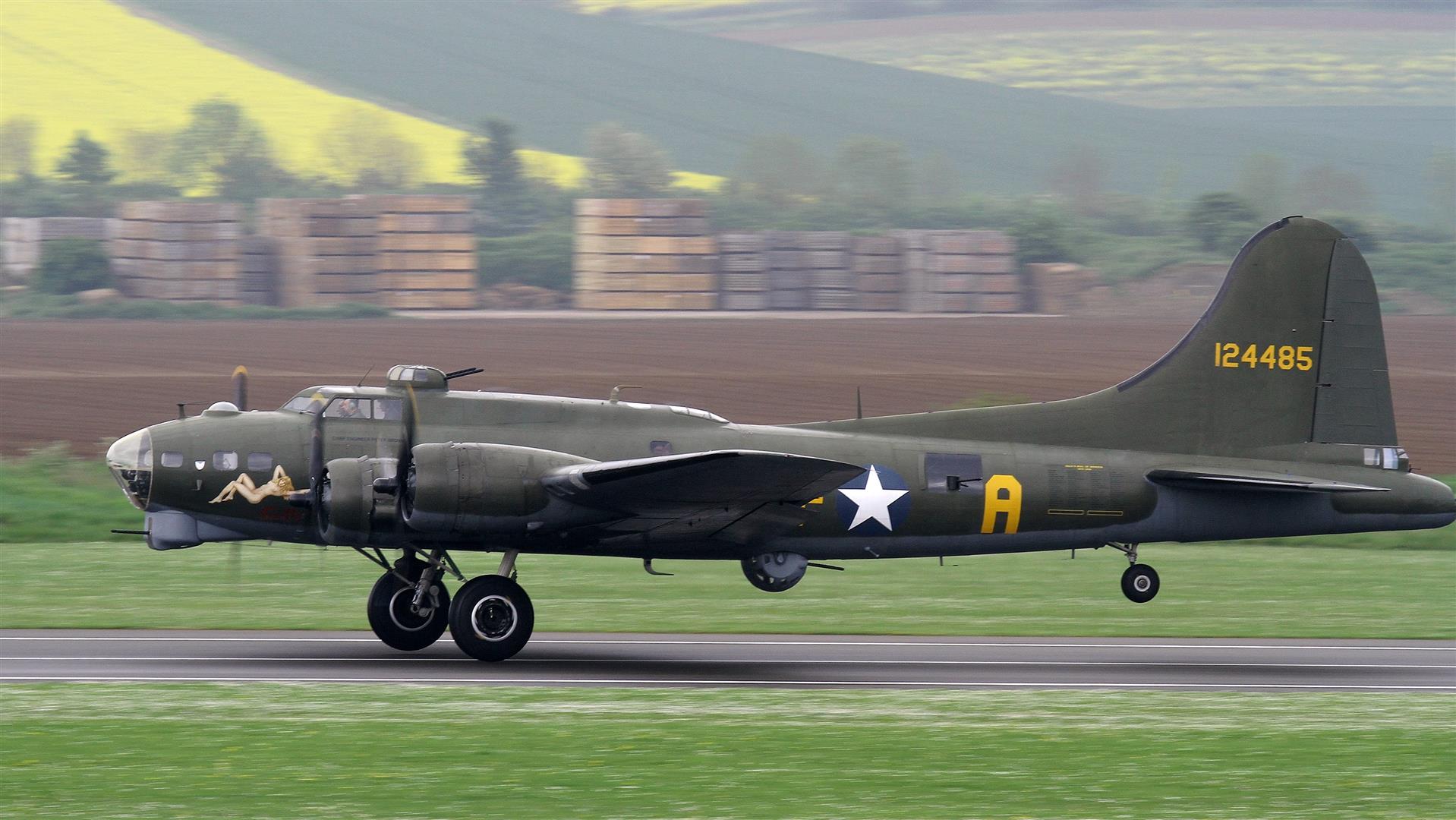 First 2016 Take Off, credit David Whitworth
------------------------------------------------------------------------------
01 May 2016
Spring has arrived and with it another flying season for our B-17.  
It has been a busy winter in Hangar T2N where Sally B's extensive maintenance is still ongoing under the superb leadership of Chief Engineer Peter Brown assisted by his trusty team of volunteers.  This work is now completed and Sally B is back in her summer enclosure left of the control tower at Duxford in readiness for her 41st display season.
Following an extensive review of airshow safety in the aftermath of last year's truly awful Shoreham accident, the CAA have now published their new scheme of charges, new safety measures and new restrictions. These heavy charges and restrictions, will affect all air shows, display aircraft and pilots. This means less shows and therefore less revenue for our aircraft, whilst most of our annual cost increases daily. But, despite these many changes and uncertain times ahead we remain upbeat that we will find a way through as we always have in the past.
A list of venues for 2016 can be found here.
------------------------------------------------------------------------------
Stop Press - Media attack on Sally B
31 August 2015
In response to sensationalist reporting in the press and media of Sally B at the Clacton Air show, Elly Sallingboe operator of the B-17 Flying Fortress Sally B said:
'Our B-17 Sally B has a smoke system fitted which emits a plume of smoke during the last run of every display we do as a tribute to the thousands allied airmen who died over Europe during the Second World War and as a tribute to all who support this beloved aircraft. We have performed this tribute at every venue and show for the past 20 years and it is frequently accompanied by a planned silence or stirring music.
'We have operated Sally B for 40 years as a flying memorial and for the enjoyment and education of spectators here in the UK and in Europe. The aircraft is operated, flown and maintained, mainly by professional volunteers and as a registered charity is supported solely by the goodwill of the public; donations and by the support of the 6,500 members of the Sally B Supporters club, whose sole aim is to insure this flying icon remains flying as a tribute to the to the 79,000 allied airmen who lost their lives during WWII.
Every year, this flying memorial is seen and appreciated by hundreds of thousands all over the UK and Europe.
'Our display in no way reflects or refers to the tragic events at Shoreham earlier this month. The thoughts of everyone associated with Sally B continues to be with the families of those caught up in this most unfortunate tragedy.'
Elly Sallingboe
B-17 Operator & Chairman of Trustees
------------------------------------------------------------------------------
Sally B under cover for the winter after an excellent 2014 season
09 October 2014
Our B-17 went under cover at IWM Duxford on Wednesday 8th October after an extremely satisfying and successful display season - her 39th! 
Hangar T2 North is now the venue for Sally B's a busy winter's maintenance by Chief Engineer Peter Brown and his loyal team of volunteers.  Peters projected work programme is the most extensive for many years and involves a huge amount of extra work.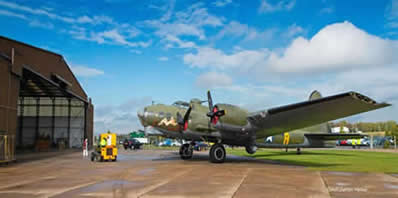 Because of this and because of the ever tighter health and safety rules, there will be no access this winter for members of the Sally B Supporters Club to the B-17's maintenance area, and therefore no visit inside the aircraft till the winters work is completed.  Members are, however, more than welcome to use their free entry to IWM Duxford, to come and say hello to Sally B from the gangway over the winter months. 
Once the maintenance work is completed and Sally B is back in her enclosure on the flightline, members can once again visit on any Sunday, (unless she is flying).  On each Sunday over the summer months, a member of the team will be at Duxford to show club members inside the aircraft between 11am and 3pm.  
A summary on the 2014 display season and all the latest news on this iconic historic aircraft will be in the member's magazine, Sally B News, out in November.  
If you are not a member, why not join us today and keep up with the happenings in and around Sally B, her crew, her team and her members (Join the supporters club).  To entice you to join, here is the current Sally B News and the latest Bulletin . AND, by joining you will help keep this last remaining B-17 flying in the UK to reach her 4th decade, for 2015 will mark an incredible 40 years since our aircraft arrived in the UK.
We must not forget that Sally B is a living piece of our national heritage and must be preserved for the enjoyment and education of today's and future generations.  And we must raise more funds if we are to keep our beloved B-17 flying here, in the UK, where she belongs."
Elly Sallingboe
B-17 Operator & Chairman of Trustees
------------------------------------------------------------------------------
A tribute to Sally B's greatest supporter
by B-17 Operator and Team Leader Elly Sallingboe
4th March 2014
The close knit Sally B family were deeply saddened by news of the untimely death of Trustee and Sales Team Leader Derek Smith, who passed away on the evening of the 1st of March following a long illness.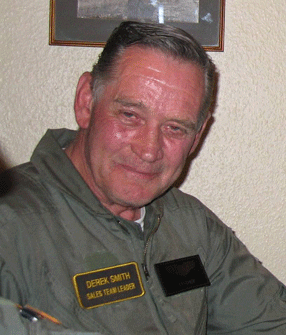 Derek had been involved with Sally B for almost as long as she has been in the UK. It all began at Great Leigh's, Chelmsford in 1984 when he first saw the aircraft fly. He joined the Sally B Supporters Club there and then and immediately began helping the late Betty Roberts and her husband David running what was then a small support stall. From then on, Derek's involvement rapidly increased - from dedicated member to heading the sales team. In 2000 he was invited to become a Trustee of the B-17 Charitable Trust in appreciation of his absolute dedication to Sally B and all she stands for.
With inspiration, vision and tenacity Derek kept the sales team together for almost three decades. No one has a better team than Sally B and that was very much thanks to Derek's superb leadership. His zeal for keeping Sally B flying took him away from home most weekends but he was fortunate to have a strong and loving family who supported his passion.
His knowledge of the history of aviation in the Second World War, particularly the various Bomb Groups of the US 8th Army Air Force, was vast. In 2007 Derek, with the help of Cliff Bishop, wrote the book "Pictorial Tribute to the Men and Aircraft of the 447th Bombardment Group (H) 1943 – 1945". A second book followed in 2012 with co-author Malcolm Osborn "A Photo History of the 486th Bombardment Group (Heavy)".
Derek was always held in great esteem by fellow Sally B volunteers as a much loved and dedicated team leader. He adored his team and through sickness and health he was always there for all of us, and gave his all to keeping Sally B flying. Our aircraft could not have had a better ambassador, nor could it have been better represented. Derek was an inspiration and a huge part of Sally B.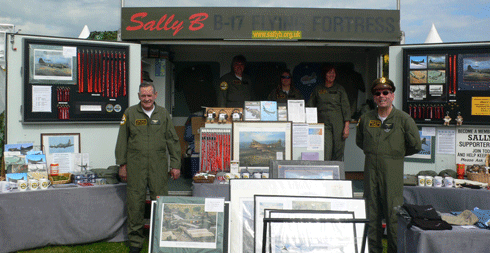 Those of you who knew Derek will understand just how dreadfully he will be missed and we will cherish his memory – always!
Our hearts go out to Derek's amazing wife June, daughters Carole and Teresa and grandchildren Carly, Genna, Sam, Lauren and Connor whose loss is by far the greatest.
We raise our heads, scan the sky and salute you Derek
Derek Smith's funeral was on Monday 17th March 2014