Ted White - The Founder of B-17 Preservation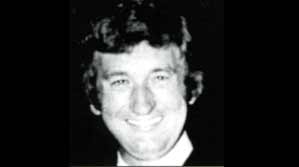 Late in life, businessman Ted White developed a passion for flying that all aviators understand without need for explanation. His flying career began when he attained his private pilot's licence in 1973, when his business interests were far removed from all things aeronautical. But that one piece of paper set him on a path which ultimately led to worldwide recognition of his enthusiasm for vintage aircraft.
This is the story of the life, and tragic death, of Ted White - the man who became the driving force behind the acquisition of Sally B.
In the early 1970s, Ted was introduced to the late Don Bullock, a pilot of great skill. Ted's enthusiasm for aviation was born, and he and Don formed Euroworld Ltd, a company dealing with world wide aircraft ferrying. Later, Ted gained his commercial licence and FAA ATPL, becoming actively involved in the ferrying of such aircraft as the North American T-28 Trojan and AT-6 Harvard.
On 23 November 1977, Ted made a check flight in a North American T-28 at N'dolo in the Congo, in preparation for an eventful long haul ferry flight to Biggin Hill. One of three such aircraft destined for demilitarisation in the USA, N99160 became Ted's mount for almost a month of difficult flying halfway round the world. Prior to the actual flight, Ted had spent three months in the African "bush", preparing these T-28s for the long trip home and N99160 became the subject of much lavish attention on his part as, ostensibly, it was his payment for undertaking the contract. The trip began on 29 November 1977 and ended on 16 December 1977, having travelled from the Congo to Biggin Hill via such places as Abijan, Monrovia, Freetown, Dakar, Rabat, Tanger, Valencia and Le Touquet. Imagine Ted's disappointment upon arriving back home to find that he was not allowed to keep N99160 as it had to be demilitarised and this could only be done in the USA!
The Arrival of Sally B
In early 1975 Ted heard that France's Institut Geographique National intended to dispose of a B-17G it had used for photo-survey work. For such a keen aviator and entrepreneur, this was an exciting prospect, and Ted set about purchasing the aircraft, which was registered as N17TE to Euroworld Ltd. As a surprise for his close companion Elly Sallingboe, Ted named the aircraft "Sally B" in her honour, in the bold and colourful tradition of American-style wartime nose art. On 15 March 1975, accompanied by his friends Don Bullock and Mark Campbell, Ted ferried N17TE to Biggin Hill; the Sally B operation was underway.
In acquiring the B-17, Ted had set himself a huge challenge in finding the money to meet the ever-escalating cost of operating such a fuel-hungry aeroplane as Sally B. In 1979 he formed B-17 Ltd to ensure the continued existence of this remarkable piece of aviation history, which he would fly as a memorial to the thousands of US airmen who gave their lives during the Second World War. Ted's enthusiasm for this cause was infectious and his easy-going manner won him many friends keen to help in this crusade. One example of Ted's dedication was when it was a choice between paying rates and other domestic bills owed on his house, or buying components for Sally B – the B-17 won!
In 1979, as payment for disposing of the last remaining Portuguese Harvards, Ted acquired the untidy hulk of an AT-6 Texan. An eyesore to some, he saw it as an aviator's delight, and spent all of his free time over the next two years rebuilding it.
Great Warbirds Air Display
By now, aviation really had become Ted's passion and in 1981, he and Elly began organising an "aviation spectacular" along the lines of the Confederate Air Force shows in the USA. The event, another venture to help finance the operation of Sally B, would also bring to reality Ted's dream of an all-vintage air show including magnificent massed flypasts led by Sally B: the Great Warbirds Air Display.
Since gaining his pilot's licence, aviation had become Ted White's life and now he and Elly were about to stage the biggest vintage aviation event the UK had ever seen. Tragically, he would never see his dream come to fruition. In June 1982 Ted was killed along with his close friend Mark Campbell when Ted's Harvard G-ELLY crashed in Malta.
Tragedy in Malta
A keen competitor in the Malta Air Rally, Ted had attended all except one of these events since they had begun more than ten years previously. A close friendship with Mark Campbell resulted in them winning the Rally outright in 1976.
Ted was disappointed at not being able to fly his T-6 to Malta in 1981, as renovation was not completed in time. Indeed, his reception in Malta was quite overwhelming, with his arrival in the Harvard, making front-page news on the island's news stands.
On Tuesday 22 June 1982, having finished the Rally proper and awaiting the results, Ted invited Mark Campbell aboard his T-6 for a local flight. Tragically, Ted and Mark never returned from that flight, for the Harvard crashed, killing the two friends. Nobody knows exactly what went wrong, but news of the tragedy sent shock waves throughout the aviation world.
When the results of the Rally were announced, first prize in the "Councours D'Elegance" went to Ted White and his North American AT-6 Texan.
Picking up the Pieces
Of course, Elly was completely devastated by Ted's death, and it's hard to imagine how anyone could carry on in the wake of such a tragic loss. But somehow, Elly and her team bravely pulled themselves together to hold the show and to dedicate themselves to the continued flying of Sally B, as Ted would have wished. For Elly, the Great Warbirds Air Display would be a spectacular and fitting tribute to Ted White. His dream of a massed Harvard formation would still take place, but with his lead position unfilled. For all time, Sally B's starboard inner cowling will carry the same black and yellow chequered markings as Ted's Harvard.
Triumph over Tragedy
Over the next thirteen years, the Great Warbirds Air Display, that began as Ted White's personal vision of a gathering of like-minded enthusiasts, developed and grew beyond his wildest dreams, becoming the major vintage event of the year in Europe. Its unique style of historical re-enactment and formation flypasts drew both audiences and aircraft from all over Europe.
When Ted White died, he left behind his close companion for many years, Elly; his mother, two sons Tony and Eddie, and his much-beloved brother Danny. A gentle man with a heart of gold, Ted enriched the lives of all who knew him, and things would never be the same again.
Ted's legacy to us all is Sally B. The aircraft was brought to the UK thanks to Ted White; his vision, his sense of adventure and his passion for flying.
Since Ted's death, Elly and the team and crew, along with the 6,500 Supporters Club Members, have kept his vision alive. Ted would surely be proud to know that for almost 40 years, thousands of people, young and old, have been thrilled at air displays to see the UK's last remaining airworthy B-17 Flying Fortress, Sally B.