The Team & Crew of Sally B
For more than four decades, this unique, historic aircraft has been kept flying thanks to the time, effort and dedication of a group of people we call our Team and Crew. Keeping Sally B going has always been, and continues to be, a labour of love for all concerned. Even so, it's not enough simply to love the aircraft (although it helps!). This is an operation that relies heavily on teamwork.
Throughout the long winter months when maintenance is taking place, everyone involved in this vital work pulls together so that, come the spring, Sally B can take her place on the grass runway at Duxford, ready for her engines to roar into action. Spring is also the time when many more Team and Crew Members become involved. From cleaning the aircraft to sourcing spare parts, from selling souvenirs to signing up new Members, from helping on the sales stall to actually flying the aircraft, everyone has their part to play in keeping Sally B flying.
Without teamwork, this aircraft would not have flown for one year, let alone 45! Sally B really does have the best team spirit anywhere in the world. So, meet our Crew and Team, whose aim is to ensure that Sally B will continue to fly for the education and enjoyment of thousands of people for generations to come.
Elly Sallingboe - B-17 Operator & Chairman of Trustees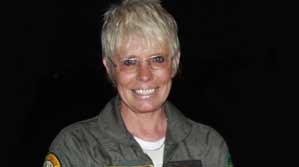 Danish born Ellinor Sallingboe, better known as "Elly" heads the B-17 organisation. In 1979 Elly Sallingboe and Ted White formed B-17 Preservation to operate and raise funds to keep the last remaining B-17 in the UK flying as the USAAF WW II Memorial Flight. In 1981 Elly obtained her Private and Commercial Pilots Licences. Following Ted's untimely death in 1982, Elly took sole control of the B-17's operation, including the major challenge of raising the essential funds to keep this four- engined aircraft flying - a struggle that continues today without any official support of any kind. In 1981 she created the Great Warbirds Air Display which became the greatest show of vintage aircraft in Europe which she run for 13 years until, due to increasing costs it came to an end in 1992. Since taking over the operation of the B-17 organisation in 1982 her life has been dedicated to the formidable task of keeping Sally B flying.
The Crew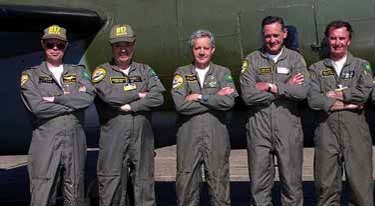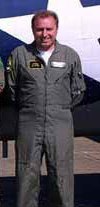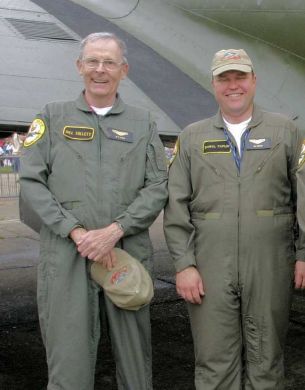 Left to right: Training Captains Andrew Dixon and Roger Mills, Chief Engineer Peter Brown, The late Sales Team Leader Derek Smith, Engineering Supervisor Mike Stapley, Deputy Engineering Supervisor Steve Carter, First Officers Bill Tollett and Daryl Taplin .
Andrew Dixon – Training Captain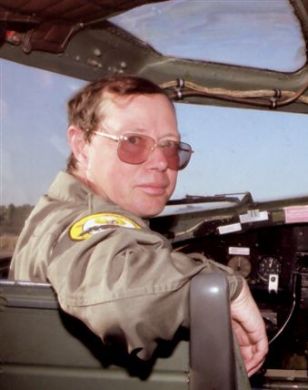 Andrew joined the team in 1995, initially as First Officer, then as Captain and in 2000 the aircraft's Training Captain. Andrew had harboured an ambition to fly Sally B since he joined the Supporters Club on the day he first saw the aircraft at Biggin Hill 1978. His extensive career flying vintage aircraft includes some 12 years flying DC-3s and DC-6s for Air Atlantique before combining 4 engines and tailwheels with the B-17. He is now based in Bournemouth as Operations Director of Meridian Aviation for whom he flies all varieties of New Piper and Pilatus Aircraft on ferry/sales and demonstration flights all around the world. In addition to the "day job" Andrew flies various historic aircraft including his own Percival Pembroke "Percy" Andrew has amassed some 23,000 hours, over 12,000 of which are on multi radial-engined piston aircraft.
Roger Mills – Training Captain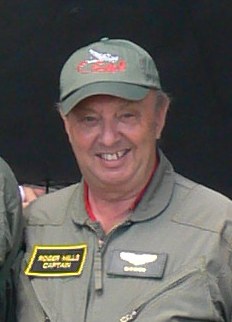 Roger Mills became a Captain on Sally B in June 2002 and a Training Captain in April 2009. Roger learned to fly in 1963 at Birmingham under the RAF Flying Scholarship scheme gaining his PPL in two weeks. Then followed the College of Air Training at Hamble from 1964 to 1965 for CPL/IR training before joining British European Airways in 1966 as a co-pilot on the Vanguard. He transferred to the Trident in 1971 and became a Captain on the Viscount (by now the company had become British Airways) in 1975. Roger moved to the B737 in 1979. He transferred to Concorde in 1987 and remained there until he retired in March 2000. Roger has been involved in extracurricular flying throughout his career and has amassed some 18000 hours on about 100 different types of aeroplane.
Peter Kuypers – Training Captain & B-17 Liaison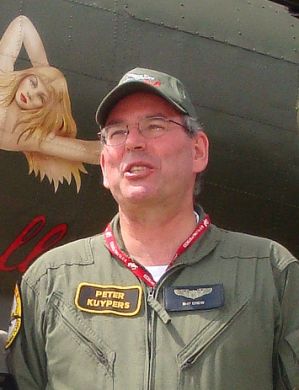 Peter joined the Sally B family in 2009. Peter is well known as the Display Pilot of the Dutch B-25 Mitchell, which he has flown for 22 years. He is also a display pilot on the DC3/C47 Dakota and the Russian Yak 50 aerobatic aircraft. Over the past many years he has flown hundreds of displays in numerous countries in Europe and has dropped airborne paratroopers from Dakota's over Normandy and Arnhem for WWII memorials. Peter started his flying career on gliders as a young boy of 14 and progressed from there to captain on Airbus A330 for KLM, his current position. During his comprehensive career Peter has flown over 20.000 hours on a wide range of aircraft types. In 2014, after years of supporting the operation of the B-17, he was made Trustee of the B-17 Charitable Trust
Peter Brown - Chief Engineer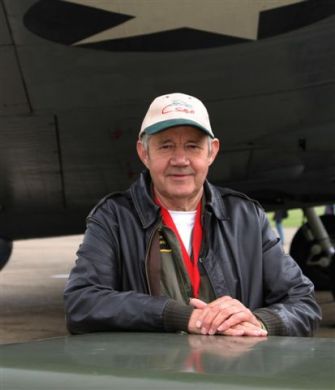 Peter is responsible for the overall maintenance of the B-17 and the mountain of paperwork this entails. Following a plea for help he joined the team as Chief Engineer in 1984 and 2006 is his 22nd year with the aircraft. Peter's very extensive career in aviation engineering began in 1950 with the RAF. On leaving the Air Force he worked at Marshall's of Cambridge, the late Freddie Laker's Air Charter, Aviation Traders, Monarch Airlines, Cargolux and Trans-Meridian. He has worked on York Tudors B170, DC-3s, DC-4s, Vanguards and on the DC-3 replacement named " The Accountant", He was Chief Engineer for HeavyLift Cargo Airlines until he retired in 1998. Peter's personality, engineering knowledge and expertise play a vital role to Sally B's existence.
Mike Stapley – Engineering Supervisor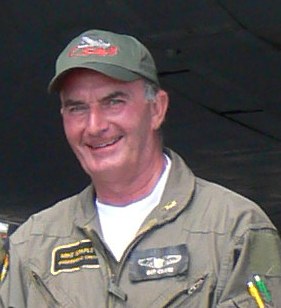 Although Mike has always enjoyed a general interest in aviation, it was when working at as a British Telecom engineer with John Littleton that he first heard of Sally B. He decided to see for himself what the attraction was, and when John asked him to join the team, he was pleased to accept. Mike has now retired from BT, which allows him more time to spend with Sally B. He is responsible for documentation, controlling maintenance schedules and worksheets and the recording of such. He is also responsible for supervision of personnel, ensuring that all work and components are to an acceptable standard. Mike also accompanies Sally B on most flights away from base.
Derek Smith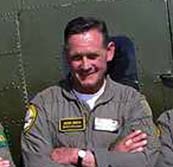 A tribute to the late sales team leader Derek Smith
Derek first saw Sally B fly at Great Leighs, Chelmsford in 1984. He was so impressed by the "beautiful silver aircraft" that he found the sales stall and joined the Supporters Club there and then. In 1984, Derek increased his involvement and helped set up one of the sales stalls at the Great Warbirds Air Display, since when he has not looked back, and was head of the sales team. Wherever Sally B flies, you are almost certain to find Derek with the B-17 sales team. Derek has also set up the internal structure of the crew room at Duxford and more recently the new Sally B sales unit. Derek was a Trustee of the B-17 Charitable Trust and, in 2011 he celebrated 30 years with Sally B. Sadly, Derek Smith passed away on the 1st of March 2014 following a long illness.
Sally B Support Team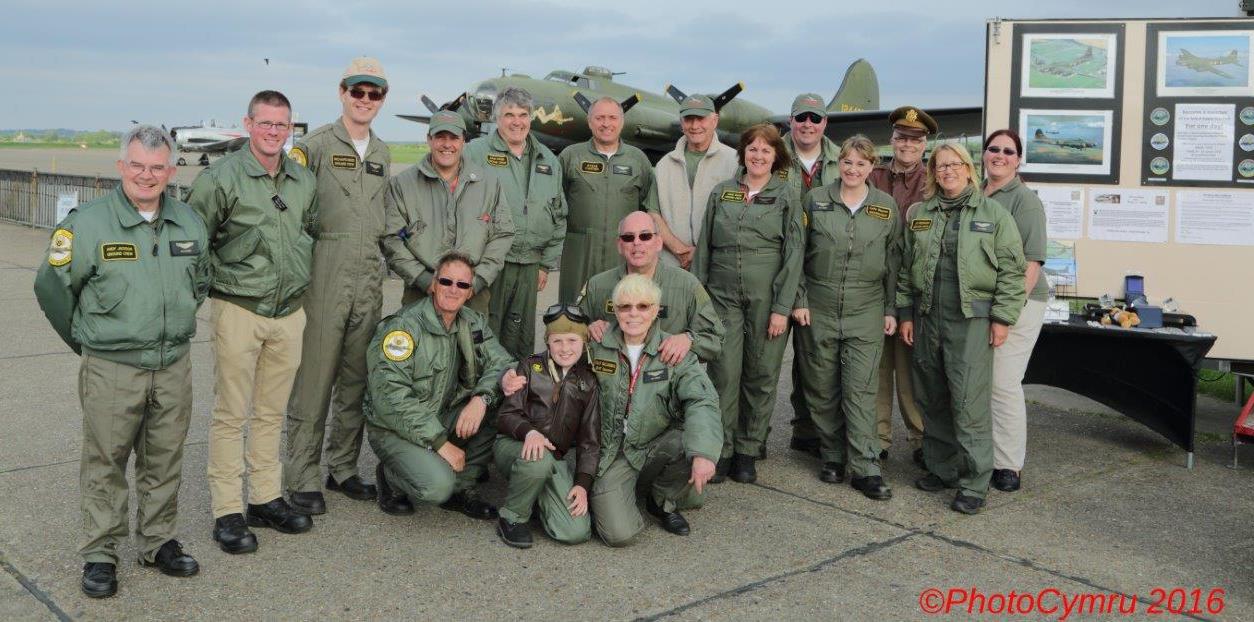 Some of Sally B's Support Team with Operator Elly Sallingboe and Captain
Peter Kuypers
Team left to right: Andy Jackson, Paul Bishop, Richard Bird, John Jeffrey,
John Owen, Steve Carter, Jim and Annie Bauer, Dominic Ivaldi, Cathy Wayman,
Kevin Hough, Jo Redfarn and Danni Owen.  Kneeling: Darren and Callum Smith,
Elly Sallingboe and Peter Kuypers